Bangladesh simultaneously celebrates festivals of three religions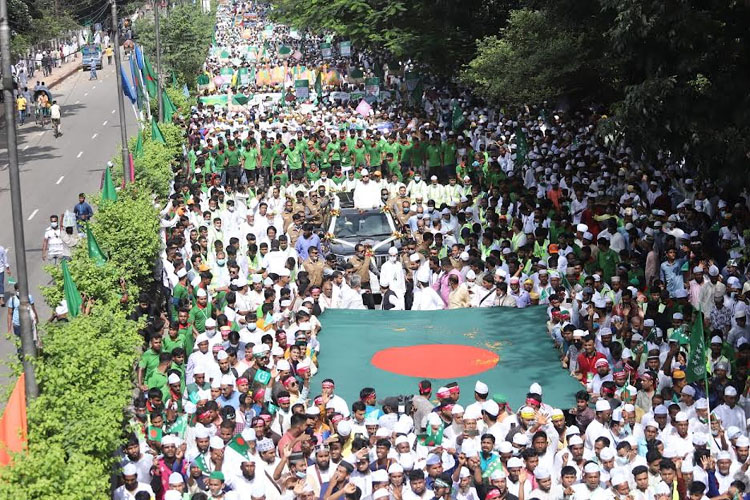 DHAKA, Oct 20, 2021 (BSS) - Thousands of Muslims today vowed to uphold
interfaith harmony in a mammoth rally of Eid-e-Miladunnabi which coincided
with simultaneous celebrations of major festivals of Hindu Kojagari Lakshmi
Puja and Buddhists' Prabarona Purnima after days of communal unrest.
"We will not allow religious extremism, militancy and communalism," they
said raising hands at the rally staged by Islamic spiritual hub of
Maizbhandar Darbar while it was joined as well by senior ministers,
politicians, foreign diplomats and dignitaries alongside Islamic scholars and
sufis.
Incumbent leader of the spiritual centre and descendant of Holy Prophet
Hazrat Muhammad (PBUH) Syed Saifuddin Ahmed administered the oath chairing
the rally, saying the Miladunnabi came this year as an extra-ordinary
occasion to uphold interfaith harmony in line with the Quran's directives and
the Holy Prophet's teachings.
Information Minister and Awami League joint general secretary Dr Hassan
Mahmud, Liberation War Affairs Minister AKM Mozammel Haque, Kalyan Party
president retired major general Syed Mohammad Ibrahim were among the
political figures to address the rally.
Representatives of Indonesia and South Korea joined the rally while state
minister for religious affairs Mohammad Faridul Haque Khan addressed the
function from Pirganj through virtual platform.
The rally at the Engineers Institution premises was preceded by a colourful
street march with participants carrying placards highlighting the Prophet's
teachings of universal peace and harmony.
Ahmed said the Muslims are particularly obligated to maintain communal
harmony and according to the Quran and the Prophet (PBUH) those who attack
places of worships of other religions would be disqualified to be Muslims.
He simultaneously called upon everyone to be sensible in making any
comment which could instigate communal tensions afresh and urged the
authorities to expose to justice the perpetrators of the recent violence as
it was clearly aimed to create social disturbance, which Islam forbids
severely.
Muslims across the country celebrated the Eid-e-Miladunnabi in traditional
fervors holding discussions on Holy Prophet's life, role and spiritual
teachings in shaping the course of mankind.
Hindus observed the annual Kojagari Lakshmi Puja, which otherwise is
observed as an everyday ritual at their households, while the Buddhists
celebrate the annual Prabarona Purnima highlighting Buddha's teachings of
non-violence.
"This is a coincidence that the festivals of three religions are being
observed on the same day in same neighborhoods, but I take it as a divine
indication to uphold the interfaith harmony as everyone belongs to the same
creator," Hindu community leader Kajol Debnath told BSS.
He added: "We want to be imbued with the spirit of peaceful coexistence
from this coincidence".
The Miladunnabi marks the birth anniversary of Prophet Hazrat Muhammad
(PBUH) on this day in 570, in Mecca of Saudi Arabia with divine blessings and
messages of peace for mankind.
Lakshmi Puja, is also being observed annually days after the Hindus biggest
Durga Puja festival and according to Hindu scripture, Lakshmi, wife of Vishnu
represents the beautiful and bountiful aspect of nature.
The Buddhist community's Prabarona Purnima is also being celebrated with
due festivity while the festival marks the conclusion of the three-month-long
seclusion of monks inside their monasteries for self-edification and
atonement of their defilement.