Navy seizes 20.91 lakh meter fishing nets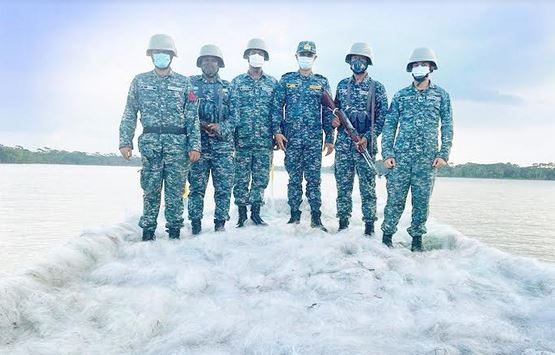 DHAKA, Oct 17, 2021 (BSS) - Bangladesh Navy seized 20.91 lakh meters
fishing nets worth about Taka 9.37 crore and 358 kgs of hilsha fish during an
operation in coastal regions of the country.
As part of the Government 22-day restriction on catching hilsha fish, the
Navy conducted the operation which started since October 11, an ISPR press
release said here today.
The Navy conducted operations in several coastal areas such as Saint Martin,
Cox's Bazar and Kutubdia, Mallikpur, Lalkharabad, Hijla, Bahanchar, Kaliganj,
Charmonai, Mehendiganj, Dapadapiya, Dhulia Kalapara, Galachipa, Panpatti,
Baufal, Bahanchar, Kaukhali, Gabkhan, Mokamia, Betagi, Bamna, Baleshwar,
Payra Nodir Mohona, Mongla, Pashur Nadi, Rampal, Kaukhali, Chalna, Dakop,
Rupsha and Batiaghata.
Since October 4, 2021, the Navy seized 41.21 lakh meters of illegal nets and
558 kilograms of hilsha fish.
The Navy is carrying out the operation in aid of civil power, the
release added.