Sadhan for building society free from child marriage, drug-addiction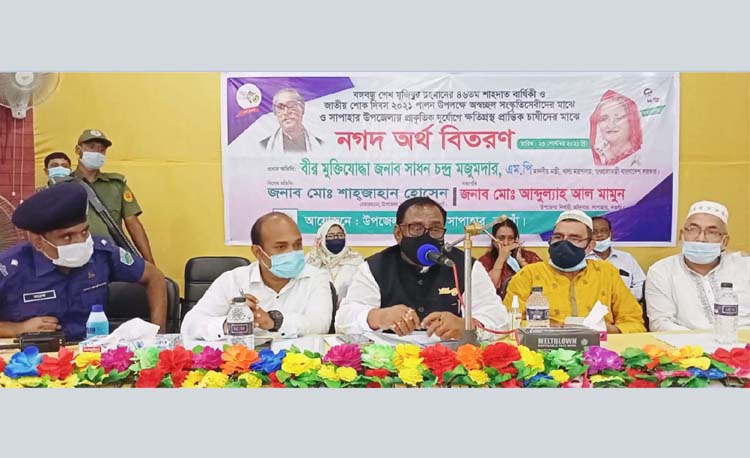 RAJSHAHI, Sept 23, 2021 (BSS) - Food Minister Sadhan Chandra Majumder has
urged the cultural activists to play their due role for building the society
free from child marriage and drug-addiction.
He said the present government is positive to the cultural workers as its
cultural-friendly and urged them to play effective role against child
marriage and addiction of drugs.
The minister came up with the observation while addressing a meeting
marking the distribution of incentives among beneficiaries under different
development programmes at Sapahar Upazila Parishad Hall Room in Naogaon
district today as the chief guest.
Food Minister Sadhan Majumder said decent cultural practice always plays a
vital role in establishing discipline in the society. He stressed the need
for engaging the new generation towards decent cultural practice side by side
with the academic curricula to protect the native culture from the negative
culture.
He said the country doesn't face any food crisis amid the pandemic and
Prime Minister Sheikh Hasian provided incentives to all the affected sectors.
Minister Sadhan Majumder urged upon the public representatives, marriage
registrars and local administration to become active against child marriage.
He also called upon the local administration for adopting zero tolerance
steps in terms of the child marriage and drug addiction.
In the meeting, the minister distributed grants and kinds under different
programmes. He also disbursed 1,000 saplings of fruit, forest and herbal
trees.
With Upazila Nirbahi Officer Abdullah Al Mamun in the chair, the meeting
was addressed, among others, by Upazila Chairman Shahjahan Hossain, Assistant
Superintendent of Police Binoy Kumar Sarker and Upazila Women Affairs Officer
Amena Khatun.