Govt to implement all projects beneficial for people: Tazul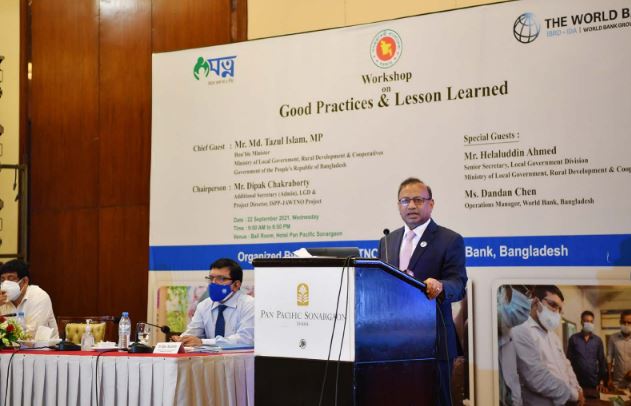 DHAKA, Sept 22, 2021 (BSS) - Local Government, Rural Development (LGRD) and Cooperatives Md Tazul Islam today said in case funds from the development agencies are not available, the government will implement with own finance all the projects beneficial for the country's people.
"Bangladesh is gradually moving towards development. If any foreign organization doesn't finance any project beneficial and profitable for our country, will we not undertake that project? It must be taken and the government is doing so since we have that capability." he said.
The LGRD minister came up with the statement while addressing the inaugural function of a workshop titled "Good Practices and Lesson Learned" at the Pan Pacific Sonargaon Hotel in the city, said a press release.
The Local Government Division (LGD) organized the workshop under the Income Support Programme for the Poorest (ISPP) Project with the Project Director and Additional Secretary of the division Dipak Chakraborty in the chair.
Operation Manager of the World Bank in Bangladesh Dadan Chen addressed the inaugural function as the special guest.
Noting that the government is undertaking many projects for development of the country and its people aiming at transforming Bangladesh into a developed and prosperous country by 2041, Tazul said the officials concerned should learn from the completed projects and utilize the good practices in the next projects.
Emphasizing on strengthening the local government institutions like Union Parishad, Upazila Parishad and municipalities, he said the overall scenario of the country can be changed by strengthening these institutions.
Terming the ISPP Project, also known as Jawtno Programme, as a different kind of project, the LGRD minister said under this project, the poorest mothers and pregnant women are given cash assistance for taking proper health services to improve their children's nutrition and cognitive development.
"This is an epoch-making and timely project of the present government," Tazul said.
According to the release, the ISPP Project (Jawtno Programme) is being implemented at 444 unions of 43 upazilas under seven districts of Rangpur and Mymensingh divisions.