Educational institutions cannot charge assignment fees: Dipu Moni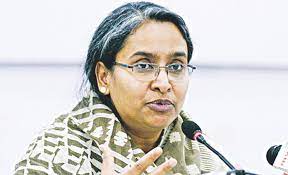 DHAKA, Sept 17, 2021 (BSS) - Education Minister Dr Dipu Moni said
educational institutions will not be allowed to charge fees for assignments
in the assessment of learning results of students.
"Educational institution should not take any kind of fee in the name of
assignment to evaluate the results of the students....If students have dues,
it can be realized in installments or some other arrangements. That fees
should not be mixed up with assignments," she said talking to journalists at
Chandpur Circuit House today. The minister said people, who can afford it,
should pay the fee, and educational institutions can make plans for
installment system.
Lawmaker Nurul Amin Ruhul, Deputy Commissioner Anjana Khan Majlish,
Superintendent of Police Milon Mahmud, Chandpur Municipality Mayor Zillur
Rahman Jewel and Faridganj Upazila Parishad Chairman Zahidul Islam Roman were
also present on the occasion.