Documentary on Bangamata to be made: Hasan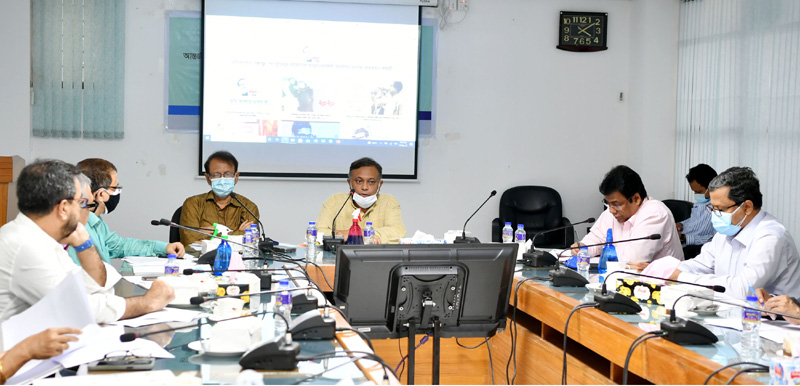 DHAKA, Sept 16, 2021 (BSS) - Information and Broadcasting Minister Dr Hasan Mahmud today said that a decision has been taken to make a documentary on the life and works of Bangamata by his ministry.
The minister informed this at the 8th meeting of Media, Publications and Documentation sub-committee of Father of the Nation Bangabandhu Sheikh Mujibur Rahman's Birth Centenary Celebration National Implementation Committee held at the committee office here.
Hasan, also Awami League joint general secretary, presided over the meeting while member secretary of the sub-committee and secretary of the ministry Md Mokbul Hossain conducted it.
The minister also informed that an initiative would be taken to collect different information about Bangabandhu through interviews from the persons who were close to him (Bangabandhu).
Chief Coordinator of the national implementation committee Dr Kamal Abdul Naser Chowdhury gave the welcome speech.
Naser informed that the programmes of Mujib Year are being implemented amid COVID-19 situation by avoiding public gathering as per the directives of the prime minister.
He said the programmes will be expanded up to December 16, 2021.
The meeting had an elaborate discussion on different programmes of the sub-committee.
ICT Division Senior Secretary NM Zeaul Alam, Bangladesh Sangbad Sangstha (BSS) Managing Director and Chief Editor Abul Kalam Azad, Information Commissioner Abdul Malek, Bangladesh Television Director General Soharab Hossain, Bangladesh Betar Director General Ahmed Kamruzzaman, Mass Communication Department Director General Bidhan Chandra Karmakar, AL Deputy Publicity Secretary Aminul Islam, poet Tariq Sujat, senior journalist Iqbal Sobhan Chowdhury,
the daily Amader Natun Somoy editor Naimul Islam Khan, the daily Bhorer Kagoj editor Shyamol Datta, senior journalist Manjurul Ahsan Bulbul, Jatiya Press Club president Farida Yeasmin, the daily Jugantor Editor and former Jatiya Press Club president Saiful Alam, ATN Bangla head of news Za E Mamun, journalists Shahed Chowdhury and Farzana Rupa, Foreign Ministry's Public Diplomacy wing director Pranab Kumar Bhathachariya, among others, were present in the meeting.