Flood situation worsens in Brahmaputra basin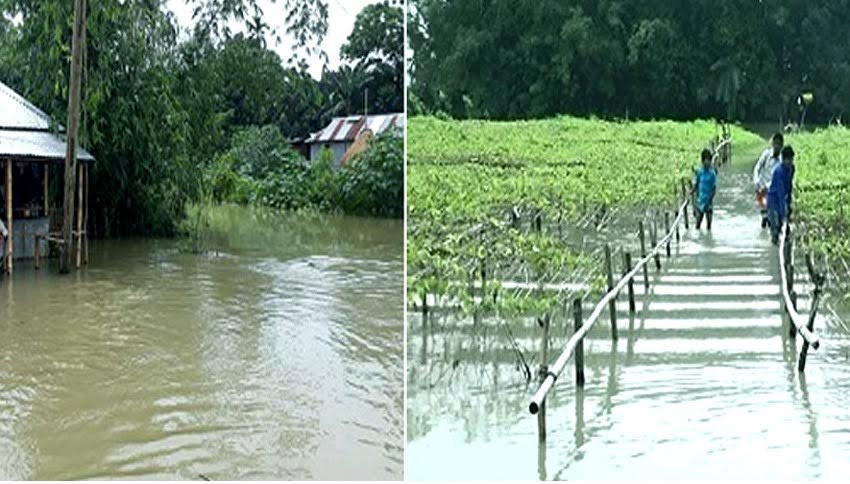 RANGPUR, Sept 3, 2021 (BSS) – The flood situation worsened further marooning over 1.50 lakh people so far in seven northern districts during the last 24 hours ending at 9 am today in the Brahmaputra basin.
Officials of Bangladesh Water Development Board (BWDB) said major rivers were flowing above the danger levels (DL) at 12 points of Rangpur, Lalmonirhat, Kurigram, Gaibandha, Jamalpur, Bogra and Sirajganj districts at 9 am today.
Water levels of the Dudhkumar, Dharla and Teesta sharply rose during the period inundating fresh low-lying areas in Rangpur, Nilphamari, Lalmonirhat and Gaibandha while the Brahmaputra remained steady and Jamuna rose, worsening the flood situation.
The Teesta marked a sharp rise by 80cm at Dalia point in Nilphamari and was flowing there above the DL by 35cm at 9 am today.
As a result, floodwater inundated fresh low-lying areas of Dimla upazila in Nilphamari, Hatibandha, Kaliganj, Patgram and Aditmari upazilas in Lalmonirhat and Gangachara upazila in Rangpur during the period.
The Dudhkumar was flowing 8cm above the DL at Pateshwari while the Brahmaputra above the DL by 10cm at Hatia and 50cm at Chilmari and Dharla by 28cm at Kurigram points in Kurigram and Ghagot by 20cm above the DL at Gaibandha points at 9 am today.
The Jamuna was flowing above the DL by 52cm at Fulchhari and 34cm at Shaghata in Gaibandha, 63cm at Bahadurabad in Jamalpur, 69cm at Sariakandi in Bogura, 66cm at Kazipur and 67cm at Sirajganj pints in Sirajganj districts at 9 am today.
According to a bulletin of the Flood Forecasting and Warning Center (FFWC) of BWDB, the recorded rainfalls during the last 24 hours ending at 9 am today were 41mm at Gangtok and 35mm at Tezpur points of the northwestern Indian states.
The Brahmaputra is in a steady state while the Jamuna is in a rising trend which may continue in the next 24 hours.
"The flood situation at low lying places of Kurigram, Gaibandha, Jamalpur, Bogura and Sirajganj districts in the Brahmaputra basin may deteriorate and remain steady alongside the Teesta in the next 24 hours," the bulletin added.
Chief Engineer for Rangpur Zone of BWDB Jyoti Prosad Ghosh along with his senior officials is regularly visiting the flood situation alongside major rivers in Rangpur, Lalmonirhat, Nilphamari, Kurigram and Gaibandha districts.
"The flood control embankments and structures are remaining safe in Rangpur zone of BWDB in Rangpur division," Ghosh said, adding that riverbank protection works are continuing at several vulnerable points under the zone.
Officials of the Department of Agricultural Extension (DAE) said floodwater has submerged standing crops on 26,421 hectares of land in low-lying areas of Rangpur agriculture region alone till Thursday.
The submerged standing crops include Aman rice on 26,001 hectares of land, Aman seedbeds on 115 hectares and vegetables on 305 hectares of land in Rangpur, Kurigram, Gaibandha and Lalmonirhat districts.
Additional Divisional Commissioner (General) Md Zakir Hossain said district administrations have intensified distribution of relief goods among affected people in the floods-hit areas of Rangpur division during this first phase of the deluge.
The government has so far allocated Taka 3.50 lakh and 20 tonnes of rice for Rangpur, 280 tonnes of rice and Taka 12 lakh for Kurigram, 80 tonnes of rice and Taka two lakh for Gaibandha and those are being distributed among flood-hit people in these districts.