FBCCI to hold 'Bangladesh Business Summit-2023' in March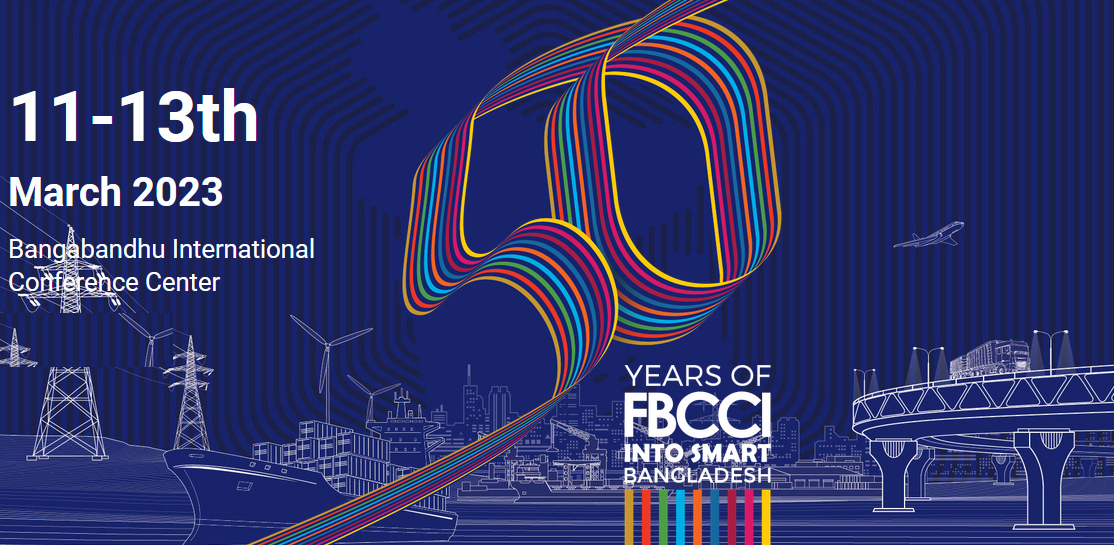 DHAKA, Jan 24, 2023 (BSS) - The Federation of Bangladesh Chambers of Commerce
and Industry (FBCCI) is going to hold the "Bangladesh Business Summit-2023"
on March 11-13 this year aiming to promote trade and investment marking its
50th founding anniversary.
ON March 11, Prime Minister Sheikh Hasina is scheduled to inaugurate the
event at the Bangabandhu International Conference Center (BICC) and will also
join the fireside chat with Richard Quest, one of the most prominent media
figures from CNN in the USA.
The summit, envisaged to become Bangladesh's flagship business event, will
highlight the country's economic and market strengths as well as concrete
trade and investment opportunities in Bangladesh by convening national and
global business leaders, investors, policymakers, practitioners, policy and
market analysts, academia and innovators.
FBCCI officials said the Bangladesh Business Summit 2023 will also host the
best of Bangladesh Expo and FBCCI Business Awards 2023. There will be three
plenary sessions on strategic issues, 13 parallel technical sessions, B2B
meets, networking sessions, open house reception and guided tours for
international delegates.
Talking to BSS, FBCCI senior vice president Mostofa Azad Chowdhury Babu said
that business leaders, investors and CEOs and high ups of various local and
foreign companies have been invited to attend the Summit.
"During the Summit, the high investment potentials in Bangladesh will be
projected before the global business leaders and investors," he added.
Babu mentioned that the capability of Bangladesh has increased a lot in
various fields while the environment of trade and investment has also
improved over the years.
The FBCCI senior vice-president said that capitalizing on the congenial trade
and investment environment, the foreign investors and businesses would be
able to get a healthy return upon making their investment.
He also affirmed that the country's apex trade body is supplementing the
government's vision for turning Bangladesh as a higher mid-income country by
2031 and a prosperous smart developed country by 2041.
As a special trait, for the first time in Bangladesh, CNN is going to host a
fireside chat with Premier Sheikh Hasina, hosted by Richard Quest, anchor and
correspondent, CNN Business Editor at Large. CNN will also conduct a session
on Bangladesh business opportunities and a panel discussion with Richard
Quest.
The FBCCI is partnering with CNN to cover the event globally. The Ministry of
Foreign Affairs, Ministry of Commerce and Bangladesh Investment Development
Authority (BIDA) are also working with the FBCCI for the summit.
Prior to the start of the summit on March 10, the foreign delegates as well
as Bangladeshi business leaders would be accorded a reception by the
organisers at a city hotel.
Prime Minister Sheikh Hasina is likely to inaugurate the Business Summit on
March 11 at the Bangabandhu International Conference Center (BICC) in the
capital.
A panel discussion on the role of private sector investment and FDI for
emerging economy is scheduled to be held while Richard Quest will speak to
business leaders from major international companies and those responsible for
creating a business environment in Bangladesh.
On day 2 on March 12, a session on "Digital Economy: Smart Bangladesh
Perspective" will be held where ICT Advisor to Prime Minister Sajeeb Ahmed
Wazed will remain present as the chief guest at the BICC.
Besides, there will be presentations to be made by the representative of
Google, Meta, Tesla, IBM or relevant industry representatives.
After that, there will be separate sessions on "Developing Long-Term Finance
Markets to Support New Growth Opportunities", "Private Sector Opportunities
in Building Infrastructure for the Next Phase of Growth", "Leveraging Growing
Middle and Affluent Class for a Vibrant Consumer", "Towards a US$100 Billion
Apparel Sector: Leveraging Sustainability, Competitiveness and Investment
Opportunities", Leveraging SMEs for Vibrant Supply-chain Linkage and
Productivity Spillovers", "Catalyzing Green Investments for Sustainable
Industrial and Infrastructure Sector".
The closing session of the Summit will also be held on that day followed by a
media briefing at the BICC.
On the third day on March 13, the FBCCI Business Award 2023 will be held.
Besides, the foreign delegates and business leaders would be guided a tour of
Louis Kahn's iconic architecture Bangladesh Parliament, a half day tour
experiential factory visits for global business leaders to relevant Made in
Bangladesh Icons, Open house reception by iconic industry leaders of
Bangladesh to host global business leaders as per relevant Industries.
After the conference, exclusive-day tour or multi-day tour packages will be
promoted to the foreign delegates to visit Bangladesh.