Padma Bridge becomes bone in BNP's throat: Hasan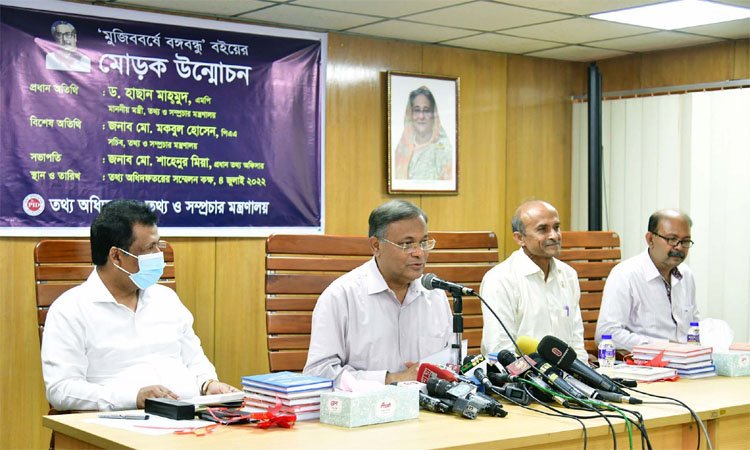 DHAKA, July 4, 2022 (BSS) - Information and Broadcasting Minister Dr Hasan
Mahmud today said people across the country become happy and delighted for
the opening of Padma Bridge, but BNP feels ashamed for the implementation of
the mega project.
"It seems from the remarks of BNP that Padma Bridge has become bone in the
throat of BNP," he told journalists at the PID conference room at the
Secretariat here.
About BNP leader Ruhul Kabir Rizvi Ahmed's comment stated that not more than
5,000 to 10,000 people joined Padma Bridge opening ceremony, Hasan said
invitation letters were sent to only 3,000 people to join a gathering of
dignitaries marking the Padma Bridge opening on that day and there was no
scope from anyone apart from the invitees to join the programme.
All, including journalists, had to be tested negative for Covid-19 to join
the ceremony, he added.
But tens of thousands people joined the public rally arranged by AL on the
occasion of the Padma Bridge inauguration, said Hasan, also Awami League (AL)
joint general secretary.
"If the common people were allowed to visit the bride on the opening day, I
don't know how much people in numbers would have gone there, all the people
of the country might have gone there to have a glimpse of the bridge," he
added.
Sharply criticizing comments of BNP leaders, Hasan said actually BNP leaders now need mental treatment otherwise they especially Rizvi Ahmed wouldn't talk like insane.
"He (Rizvi) was ill for many days and I think as he is yet to recover his illness totally, he is talking like a sick. I think he needs further more healthcare," he said.
Replying to a question over BNP call's for programme to besiege court with the demand for Begum Khaleda Zia's release, the minister said the remarks on besieging court is tantamount to a direct threat to court.
"I don't know how the court will consider it. But it is tantamount to give a direct threat to the court," he said.
Earlier, the minister unveiled covers of six books published by Press Information Department (PID) and Bangladesh Film Archive.
Information and Broadcasting Secretary Md Mokbul Hossain joined it as the special guest while Principal Information Officer Md Shahinoor Miah, Bangladesh Film Archive Director General Md Nizamul Kabir also spoke.
A book titled "Mujib Barshe Bangabandhu", a compilation of essays, articles and poems on Father of the Nation Bangabandhu Sheikh Mujibur Rahman in different supplements published marking different important national days during the "Mujib Barsho" was among the six books.
Terming it as a very important one, Hasan said Mujib centenary will not return again and "We may not remain alive during 150th or 200th anniversary of Bangabandhu. We are lucky as we could celebrate the Bangabandhu's centenary".
The publication will conserve many things of Mujib Barsho, he mentioned.
Best five books on annual research project of Bangladesh Film Archive-"Chalachitra Sangrakkon O Punoruddhar", "State, Identity and Diaspora in Tanvir Mokammel's Films", "Pekhagrighe Sabi Dekha: Panch Doshoker Biborton", "Bideshi Chalachitre-Bangladesher Muktijuddher Upsthapan, and "Samajik Jogajog Madhyame Chalachitra Samalochonar Swarup" were also launched on the occasion.
Information Secretary Md Mokbul Hossain said the books will enrich the country's arena of information and film along with the Information and Broadcasting Ministry.