Hasan calls for standing against perpetrators of communal violence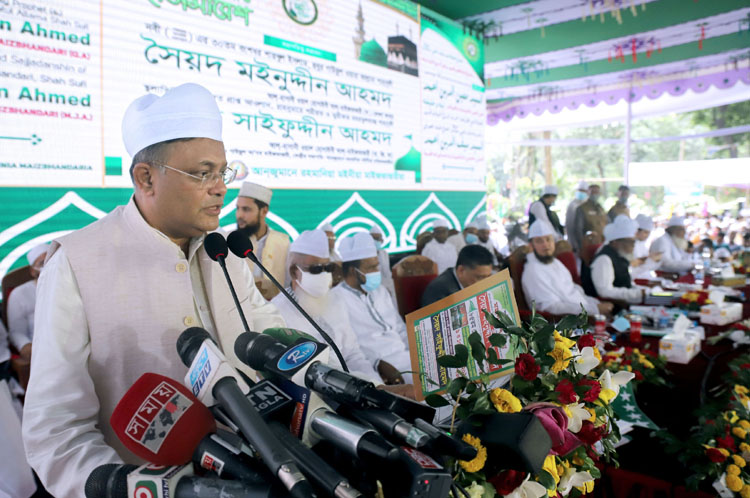 DHAKA, Oct 20, 2021 (BSS) - Information and Broadcasting Minister and
Awami League (AL) Joint General Secretary Dr Hasan Mahmud today said
those who speak of Islam but engage in violence and attack on followers of other
religions taint Islam.
"We have to be alert against them," he said while addressing a Jasne Julush and peace meeting at Engineers Institution Bangladesh (IEB) here as the chief guest.

On the occasion of the holy Eid-e-Miladunnabi, marking the birth and
demise of Prophet Hazrat Muhammad (PBUH), Anjuman-E-Rahmania
Mainia Maizbhandaria organised the meeting.

Chairman of Anjuman-E-Rahmania Mainia Maizbhandaria and Sufi Oikkya
Sanghati Syed Saifuddin Ahmad presided over the meeting while
Liberation War Affairs Minister AKM Mozammel Haque, MP, and State
Minister for Religious Affairs Md Faridul Haque Khan and Shahsufi Syed
Moinuddin Ahmad addressed the gathering as special guests.
Dr Hasan said, "The Prophet (PBUH)) has established the religion of peace 'Islam' by bringing people on the right path by stopping violence and factionalism in the world. The essence of Islam is to establish brotherhood, friendship and harmony among people."

"Those who maintain this message never become militants, do not engage
in violence, do not attack anyone in the name of Islam, because the
Prophet (PBUH) never taught to attack anyone in the name of religion,
Islam never teaches that," he added.
The AL joint general secretary said, "But today, deviating from this basic tenet of Islam, many people speak against the Oli-Ambiyas (saints) with misinterpretations of the religion and misguide the youths."
He reminded that the Islam was established in this subcontinent without any war.

"The Oli-Ambiyas have brought people under the cool shade of Islam with love and understanding. Therefore, those who speak against Islam, oppose the Oli-Ambiyas, engage in violence, and attack followers of other religions are perpetrators and slanderers of Islam. We have to be careful against them," he added.
Dr Hasan said, "Bangabandhu's daughter, Prime Minister Jananetree Sheikh Hasina, is a pious woman and Bangabandhu's ancestors came to this country from Baghdad, Iraq, to preach Islam."

"This country belongs to the Muslims as well as the Hindus, the Buddhists, the Christians and all of us. Under the leadership of Bangabandhu, all
Hindus, Muslims, Buddhists and Christians got freedom through the War of
Liberation," he said.
"We will be united to maintain peace, harmony and friendship here,"
the information and broadcasting minister said.

He stressed the need to stop persecution of the Palestinian Muslims and to
ensure safe return of the Rohingya Muslims, who took shelter in the country as refugees, to Myanmar.
War Affairs Minister AKM Mozammel Haque said those who create division in the name of religion will have no place in this country.