PM attends UNGA on special invitation of UN, world leaders: Hasan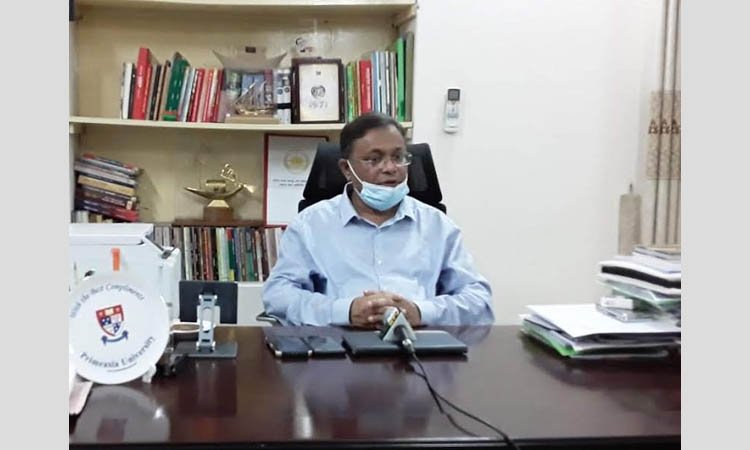 DHAKA, Sept 25, 2021 (BSS) - Information and Broadcasting Minister Dr Hasan Mahmud has said that Father of the Nation Bangabandhu Sheikh Mujibur Rahman's daughter and Prime Minister Sheikh Hasina was taken to the 76th United Nations General Assembly (UNGA) by the UN and world leaders on a special invitation.
"The global role of the Prime Minister, the way she has led Bangladesh, the way she has taken the country to the third highest growth rate in the world by maintaining economic growth even in corona, all these world leaders want to hear from her," Hasan, also Awami League (AL) joint general secretary, said.
The minister was responding to a question from the reporters on the BNP's recent remarks about the Prime Minister's participation in the UN General Assembly after virtually attending the Enayetpur Thana Awami League's tri-annual conference in Sirajganj from his official residence in the city on Saturday afternoon as the chief guest.
He said BNP is criticizing as its leaders cannot tolerate the praise of world leaders for the development of the country.
He added that BNP leader Ruhul Kabir Rizvi should have known that most of the Prime Minister's entourage had gone at their own expense.
Either Rizvi knew it or he was pretending not to know it, he added.
The isolated BNP did not find any direction in the series of meetings, but even then they have the intention to hatch conspiracies, said Hasan.
Enayetpur Thana Awami League President Md Bazlur Rashid presided over the conference.
Awami League Organizing Secretary SM Kamal Hossain, AL Health Affairs Secretary Dr Rokeya Sultana and Central Committee Members Nurul Islam Thandu, Prof Marina Jahan Kabita, Abdul Awal Shamim and Sirajganj-5 constituency Lawmaker Abdul Momin Mandal also addressed it.
Acting president of district Awami League KM Hossain Ali Hasan inaugurated the conference in the morning on that day while its general secretary Abdus Samad Talukder also spoke it.