Netherlands, Thailand envoys present credentials to President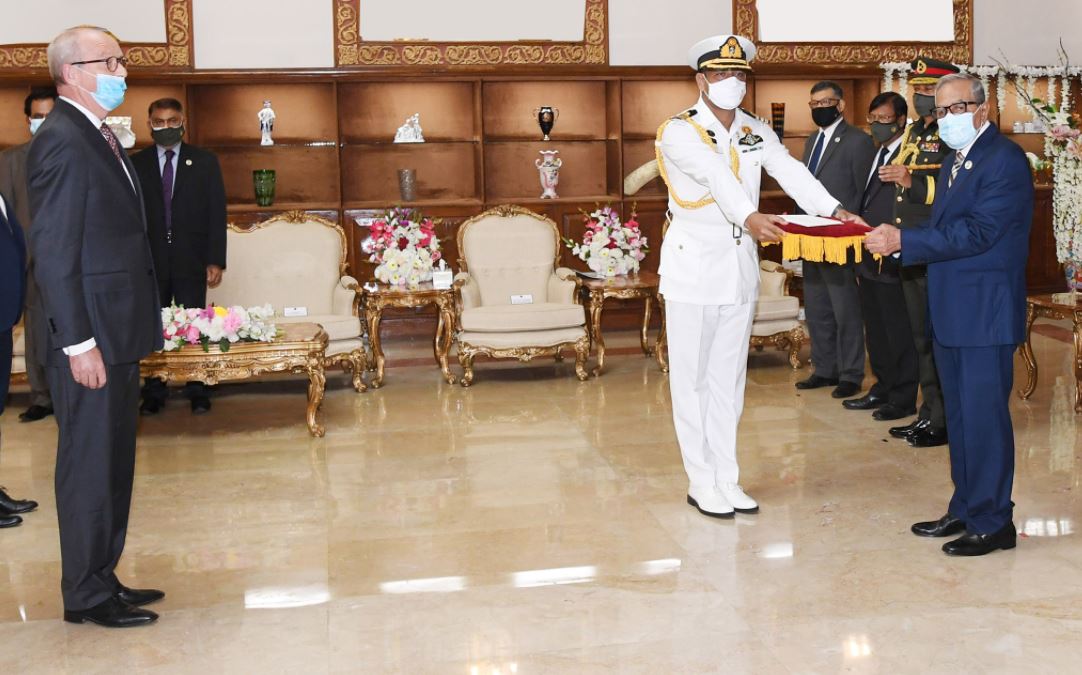 DHAKA, Aug 17, 2021 (BSS) - Ambassadors of the Kingdom of the Netherlands and Thailand separately presented their credentials to
President M Abdul Hamid at Bangabhaban here this afternoon.
The resident envoys are: Anne Gerad van Leeuwen of the Netherlands and Makawadee Sumitmor of Thailand.
Welcoming the new envoys, the President said Bangladesh always maintain a very excellent relations with the countries, President's
Press Secretary Joynal Abedin told BSS after the meeting.
The President said the Netherlands is one of the major development partners of Bangladesh. He thanked the Government of the Netherlands
for its cooperation in the formulation and implementation of 'Integrated Water Management' and 'Delta Plan 2100' in Bangladesh.
Noting that trade and investment relations between the two countries are very excellent, President Hamid called upon the new envoy to work
for taking the ongoing bilateral relationship to a new height.
He emphasized on exchanging high-level visits between the two countries at various levels.
Thanking the Dutch government for its support and cooperation on the Rohingya issue, the President expressed his hope that the
Netherlands would continue its cooperation to end the Rohingyas repatriation crisis.
During the meeting with Thai ambassador, the head of the state said Bangladesh attaches importance to the development of bilateral
relations with Thailand.
Abdul Hamid thanked the Thai government for its cooperation at the time of ongoing Coronavirus (COVID-19) outbreak.
He also put emphasis on visit-exchange for the important people to boost trade and investment between the two countries.
Highlighting the Bangladesh-made world-standard various products, including readymade garments (RMG), ceramics and medicines, the
President asked the Thailand to import those from here to ensure the trade balance between the two states.
The President called upon Thai investors to invest in special economic zones here in various sectors, including agricultural
processing, infrastructure development and tourism in Bangladesh.
Abdul Hamid assured them of providing necessary support during the assignments in Dhaka as both the envoys sought President's all-out
cooperation.
Secretaries concerned were present on the occasion.
Earlier, on their arrival at Bangabhaban, a smartly turned-out contingent of the horse-mounted President Guard Regiment (PGR) gave
the envoys guards of honour.