More 6,320 jobless families get humanitarian aid in Rajshahi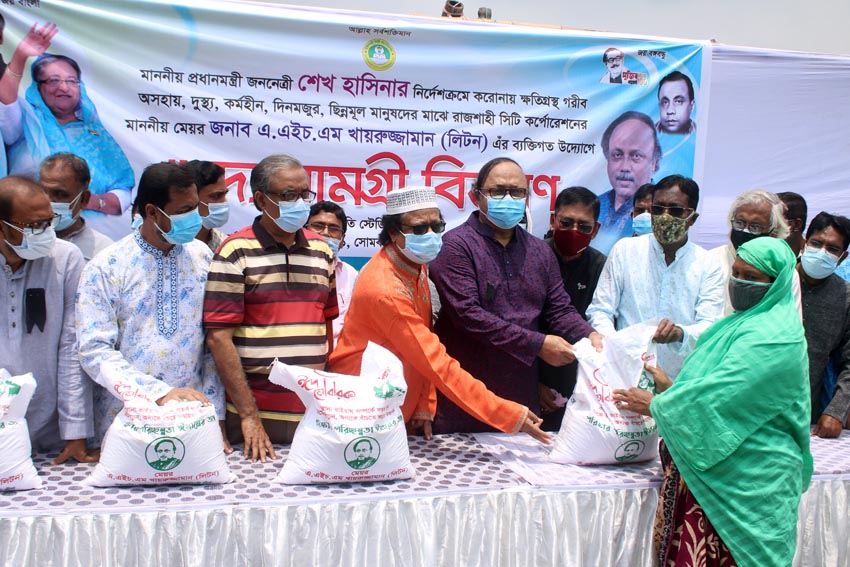 RAJSHAHI, Aug 3, 2021 (BSS) - Some 6,320 more jobless and other distressed families were given humanitarian aid aimed at mitigating their hardship and starvation amid the countrywide lockdown caused by the Covid-19 pandemic.

With the direction of Prime Minister Sheikh Hasina, Rajshahi City Corporation (RCC) distributed the assistance at Liberation War Memorial Stadium and Physical Education College playground maintaining social distancing and other protective measures to contain coronavirus spread.

Each of the beneficiary families was given a food-package containing 10 kilograms of rice and one kilogram of lentil.

City Mayor AHM Khairuzzaman Liton accompanied by local Awami League leaders and civil society members handed over the support.

Speaking on the occasion, Liton said the present government under the dynamic and visionary leadership of Prime Minister Sheikh Hasina has been working relentlessly to cope with the present pandemic situation.

The government has been dispensing foodstuffs and cash money among the low-income and other hand-to-mouth families to mitigate their hardships caused by the pandemic, he said.

With this, the RCC provided similar types of food packages to around 12,200 distressed families at separate places in the last three days amid the COVID-19 pandemic.