76th birthday of Sheikh Hasina celebrated in Ctg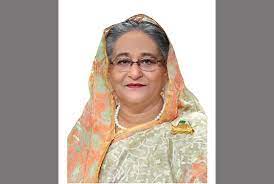 CHATTOGRAM, Sept 28, 2022 (BSS) - The 76th birthday of Bangabandhu's daughter
Prime Minister Sheikh Hasina, also the president of Bangladesh Awami League
(AL), was celebrated in the city as elsewhere in the district today seeking
blessings for her good health and long life.
AL and its front organizations, scores of cultural, social and literary
organizations, educational institutions, celebrated the day through daylong
programmes.
The programmes included milad and doa mahfils, discussions, rallies,
processions and special prayers.
To mark the day, Chattogram City AL and its front organizations brought out a
procession from city's Theater Institute Hall premises and organized a
discussion meeting there.
Acting President of Chattogram city AL Mahtab Uddin Chowdhury presided over
the function while former Mayor of Chattogram city corporation AJM Nasir
Uddin, AL leaders - Noyeem Uddin Chowdhury, Advocate Ibrahim Hossain
Chowdhury, Bodiul Alam, Advocate Iftaker Saimul Chowdhury, Chairman of
Chattogram Development Authority Jahirul Alam Dovas and panel mayor Hasan
Mahmud Hasni, among others, participated in the rally.
Addressing the discussion meeting, City Mayor AJM Nasir Uddin said Prime
Minister Sheikh Hasina is a wonder to the whole world, her only alternative
is herself.
"Bangladesh becomes a role model of development in the world by turning a
less developed country into a middle income country after overcoming hundreds
of obstacle. Those who were in favor of the invading forces in 1971 and did
not want Bangladesh, they want to endanger the existence of this country,
today two crore people of marginal class of Bangladesh are direct
beneficiaries of the government," he added.
As part of the birth anniversary programme, Chattogram north district AL
organized a discussion meeting at its Doost building office this noon with
its President Jilla Parisad Chairman M A Salam in the chair.
Chattogram south district AL also organized a separate discussion meeting in
the Bangabandhu hall of Chattogram Press club with its President Muslem
Uddin, MP, in the chair.
Wishika Aysha Khan, MP, IIUC Vice Chancellor Prof Anwarul Azim Arif, general
secretary of south district AL Mofizur Rahman, among others, addressed the
function.

Muslem Uddin Ahmed prayed for long life of Sheikh Hasina, who is continuing
her relentless efforts to build a hunger and poverty-free country.
Earlier, separate cakes were cut on the occasion of Sheikh Hasina's birth
anniversary.
Special prayers were also offered in all places of worships, including
mosques, temples and monasteries, seeking her long life and sound health as
well as continued peace and progress of the nation.