Stakeholders recommend five points to save agriculture sector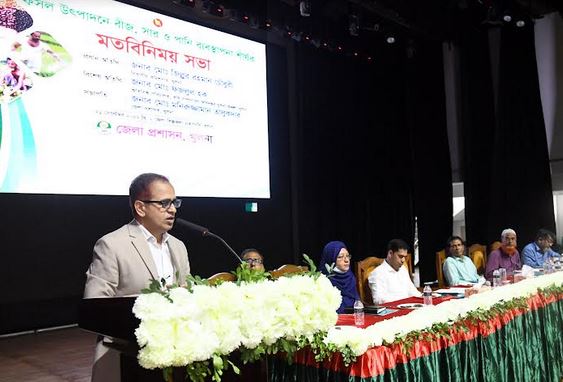 KHULNA, Sept 21, 2022 (BSS)–The Farmers and stakeholders here today made five point recommendations to save the agriculture sector of the country.
The recommendations are- development of road communication for transporting local products, keeping the sluice gates active to get irrigation facility and regular supervision by the authority to function it, construction of sustainable dam and to take steps by local administration to keep all the canals open with regular dredging facility.
They made the recommendations at a view exchange meeting titled 'management of seed, fertilizer and water for crops production' held at the district Shilpokola Academy here with Khulna Divisional Commissioner Md Zillur Rahman Chowdhury as chief guest.
Chaired by Deputy Commissioner (DC) Khulna Md Moniruzzaman Talukder, Director of the Department of Agriculture Extension (DAE) of Khulna region Md Fazlul Haque addressed it as special guest.
Joint Director (Fertilizer) of BADC Md Liakat Hossain, Regional Seed Attestation Officer Md Nurul Islam and Deputy Director of Agriculture Marketing Department Sifat Mehnaz, among others, addressed the meeting while Deputy Director of DAE, Khulna, Md Hafizur Rahman delivered the welcome speech.
The chief guest said, the government has been working relentlessly for the well being of the farmers. So, the continuity of the present crops production would not enhance without mitigate these problems.
Admitting undeniable role of the farmers to make country self reliant in crops production, the chief guest said agriculture is the most advance sector of the country.
The Divisional Commissioner said, there is no alternative of saving the Agriculture sector, saying only availability of seed, fertilizer and irrigation facilities can be ensured it.
He, however, said administration will take initiative to solve these problems with the help of local UNOs, Upazila Chairmen, Agriculture Officers and others.
Agriculture officers of Satkhira and Khulna, Upazila Chairmen, UNOs, Seed and fertilizer dealers and local farmers, among others, attended the meeting.