Spraying of insecticide begins to destroy mosquito larvae in Rangpur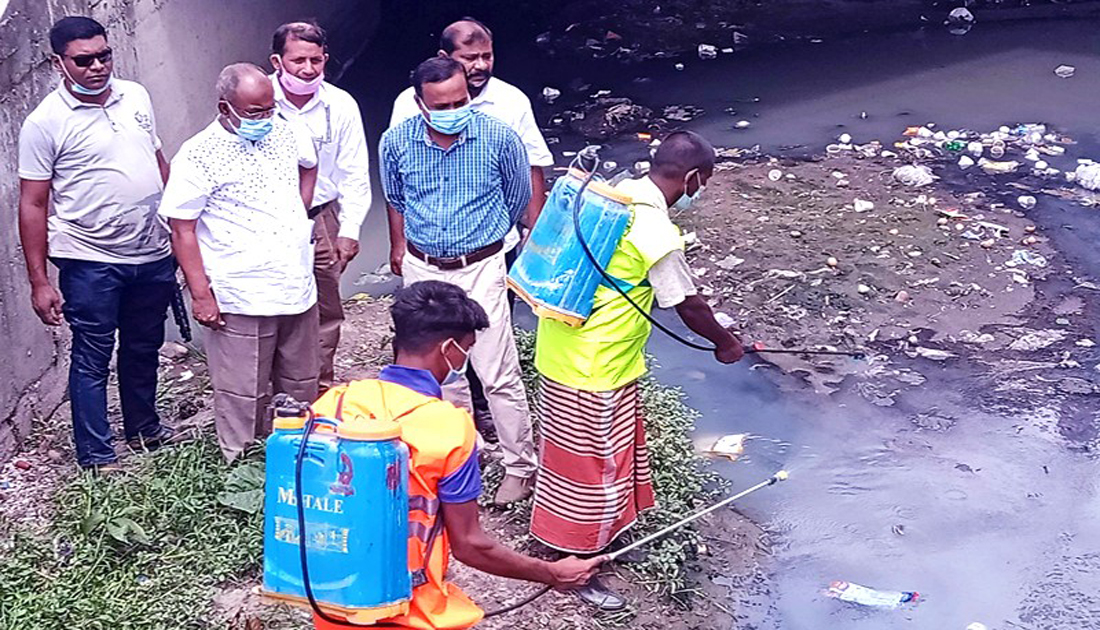 RANGPUR, July 30, 2021 (BSS) – Rangpur City Corporation (RpCC) has launched a insecticide spraying campaign in the Shyamasundari and KD Canals to destroy mosquito larvae for preventing mosquito-borne diseases including dengue in the city.
Mayor of Rangpur Mostafizur Rahman Mostafa launched the campaign at an informal function through spraying insecticide in the Shyamasundari Canal in the city's Check Post area on Thursday afternoon as the chief guest with Chief Executive Officer of RpCC Md Ruhul Amin Miah in the chair.
RpCC Waste Management Standing Committee Chairman and City Councilors, Waste Management Officer (Zone-1) Mizanur Rahmna Miju and Supervisor Ekramul Haque attended the function.
Ruhul Amin Miah briefed on the utter essence of maintaining cleanliness at drainage and sewerage systems, office premises, institutions and homesteads to prevent breeding of mosquitoes and keep the environment clean.
"All of the canals, drainage and sewerage systems and other places will be cleaned up and insecticides be sprayed to destroy mosquitoes in a shorter period in the city," he added.
The mayor said this campaign would continue throughout the rainy season across the city to destroy mosquito larvae in the logged waters for stopping breeding of mosquitoes in the city.
"Besides, we're spraying insecticides using fogger machines in all 33 wards of the city to eliminate mosquitoes in the air alongside controlling the spread of mosquitoes," he said, adding that the advance insecticide spraying campaign would continue in the Shyamasundari, KD and other Canals under a strict monitoring system this season like in the previous rainy seasons in the city.
"We have taken comprehensive programmes to turn Rangpur into a clean city soon free from mosquito-borne diseases like 'Chikungunya', 'Dengu' and 'Malaria' alongside ensuring adequate and hygienic civic amenities for citizens," he further said.