Weeklong tree fair begins in Satkhira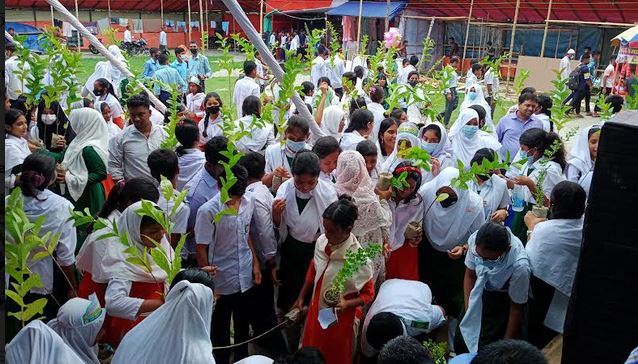 SATKHIRA, Aug 17, 2022 (BSS) - A weeklong tree fair began at Shaheed Abdur Razzak Park in the district town today.
The theme of this year is 'Brikhaprane Prokriti-Protibesh, Agami Projanmer Teksai Bangladesh'.
Member of Parliament from Satkhira-2 constituency Mir Mostak Ahmed Robi formally inaugurated the fair as the chief guest, jointly organized by District Administration and Forest Department .
On the occasion of the day, a colorful rally was brought out from in front of Satkhira Government Girls' School and ended at Shaheed Abdur Razzak Park in the district.
After the rally, a discussion meeting was also held at the Zila Shilpakala Academy Auditorium with deputy commissioner Muhammad Humayun Kabir in the chair.
Superintendent of Police Mohammad Mostafizur Rahman, District Awami League General Secretary and Satkhira Zila Parishad Administrator Md Nazrul Islam, Additional Deputy Commissioner (General) Kazi Arifur Rahman, Forest Department Assistant Officer Amita Rani Mondal, Sadar Upazila Nirbahi Officer (UNO) Fatema Tuz Zohra, Sadar Upazila Agriculture Officer Md. Rafiqul Islam, President of District Nursery Owner Association Md. Narul Amin, among others, were present on the occasion.
The speakers underscored the need for planting more trees at the homesteads and open spaces to protect the environment from its degradation and to save the country from catastrophe of climate-change side by side with meeting the nutritional and wood demand.
A total of 23 stalls with seedlings of various species of fruit, forest and medicinal plants have been set up on the fair premises.
The tree fair will continue till August 23.