Five 'robbers' held in Chandpur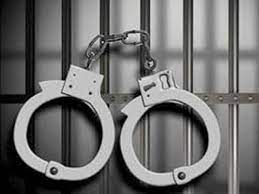 CHANDPUR, Aug 12, 2022 (BSS) - The Naval police during a drive arrested five suspected robbers along with pipe guns and sharp weapons from the Dohuri canal near Padma river in Chandpur last night.
The arrested persons were identified as Md. Abul Bashar, 22, Md. Akhtar Hossain, 30, Iqbal Munsi Prakash Sumon, 28, Shakil Dewan, 21 and Md Yamin, 19. All of them were residents of Munshiganj district.
Police Superintendent of Chandpur Naval police Md. Kamruzzaman said during a press briefing today.
He said around 12 to 13 robbers were preparing for robbery using speedboats in Padma river.
Based on secret information, as the naval police reached the spot, a group of robbers fired several rounds of bullets at the police from a speedboat. In retaliation, the naval police opened fire on them. After chasing them (robbers) with a speedboat the naval police of Mazhirghat outpost arrested the five robbers along with a speedboat, two locally-made pipe guns, seven rounds of cartridges, eight ramdas, 20 mobile phones and a knife last night.
They have several robbery cases against their name, he said.