No scarcity of sacrificial animal in Rajshahi cattle markets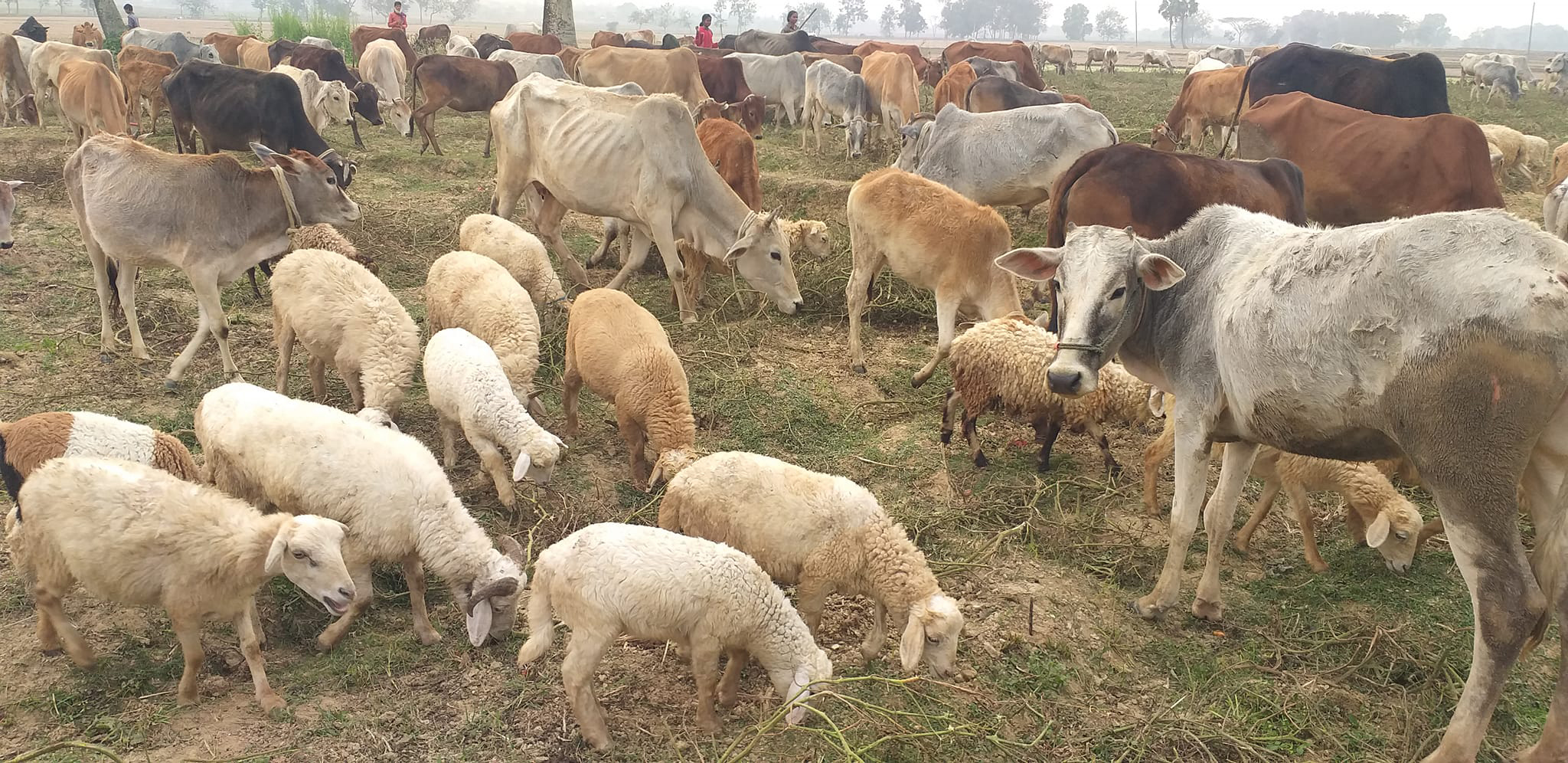 RAJSHAHI, July 3, 2022 (BSS) - Cattle markets here have no scarcity of sacrificial animals with plenty of local animals as only six days have left for Eid-ul-Azha, one of the largest religious festivals of the Muslims.

While visiting different cattle markets, this correspondent saw buyers' utmost interest to purchase local animals instead of artificially fattened ones for health concerns.

Native animals were seen dominating the cattle markets as a large number of animals including buffalo, bull, oxen, goats and sheep have been brought for selling in different markets.

House to house cattle rearing has been contributing a lot towards improving living and livelihood conditions of the grassroots population through enriching animal resources.

Locally cattle rearing is meeting the existing demands of meet within the country. Moreover, largely native cattle production has been lessening the dependence on animal import from the neighboring country.

In most of the cattle markets, the buyers were seen purchasing native animals.
Abdur Rashid, 48, a farmer of Itaghati village under Paba Upazila, said he sold a bull at City hat yesterday at Taka 1.60 lakh. He also has four more bulls for sale before the Eid.

Atiqur Rahman Kalu, Lease Holder of City Hat, said the cattle markets here are witnessing a record supply of sacrificial animals as farmers boosted up local animal production to meet its growing demand during Eid season.

He mentioned that both in rural and urban areas, the poor and marginalized people including women have achieved tremendous successes in animal production getting various assistance from the government and development partners.
District Livestock Officer Dr Zulfikar Akhter Hossain told BSS that the local animal husbandry sector has marked a revolutionary boost in recent years bringing fortune to hundreds of people in the region.

He said many of the rural families have been rearing and fattening bulls commercially and earning huge profits every year.

Rajshahi City Corporation allowed installation of eight makeshift cattle markets in its area of jurisdiction which has already begun to draw huge cattle.

Traders said there were plenty of cattle in the markets and the prices were similar to the previous Eid-ul-Azha.

The price of an ideal sized cow or buffalo starts from Tk 30,000 to 1,80,000 and a sheep or goat can be purchased from Tk 8,000 to 35,000 as per its size, they said.

In addition to the city's biggest cattle market-City haat, some temporary markets have been set up at Court Bazaar, Shaheb Bazaar Zero point, Railway Station, Court Station, Naodapara Aam Chattar and Kazla.

Meanwhile, currency-screening machines were installed in cattle markets in the city and nine upazilas of the district for resisting the use of fake notes on the occasion of holy Eid.

Abu Kalam Siddique, Commissioner of Rajshahi Metropolitan Police (RMP), told journalists that all-out security measures were taken to ensure law and order in and around the cattle markets.

"Besides, we have introduced a special traffic management system to ease traffic congestion around cattle markets in the city," he added.

Temporary security camps have been set up at every cattle market here, RMP chief said, adding patrol teams and plainclothes police have also been deployed.