AL's 73rd founding anniversary celebrated in Rajshahi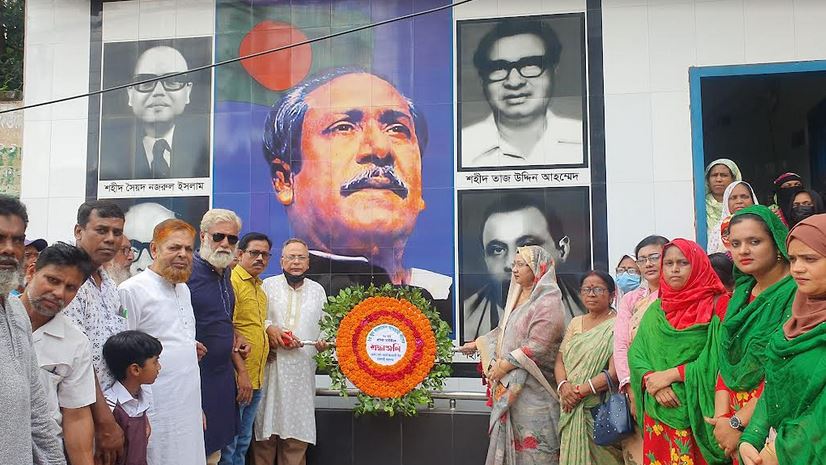 RAJSHAHI, June 23, 2022 (BSS)- Bangladesh Awami League (AL) and its front and
associate organisations today celebrated its 73rd founding anniversary with
the call for strengthening the hands of Prime Minister Sheikh Hasina.

To mark the day, Rajshahi city unit of the party paid glowing tributes to
Father of the Nation Bangabandhu Sheikh Mujibur Rahman by placing wreaths on
his portrait and four national leaders in front of the party office.

City unit President of AL Muhammad Ali Kamal and Senior Vice-president
Shaheen Akhter Rainy flanked by other front-ranking leaders and activists
placed wreaths this morning.

Speaking on the occasion, the leaders unanimously mentioned that Awami League
is not only the oldest and largest political party in the country but also an
incarnation of the mainstream democracy and secular ideologies.

The present government has been working relentlessly to improve the living
and livelihood condition of the public in general through implementing need-
based programmes.

Shaheen Akhter Rainy called upon the party leaders and workers to be united
for further strengthening the hands of Prime Minister and AL President Sheikh
Hasina to take the nation forward successfully.

District unit of the party brought out a jubilation rally in the Chamber
Bhaban area to mark the day.
Rajshahi University (RU) administration also celebrated the day in a
befitting manner.
Marking the day, Vice-chancellor (VC) Professor Golam Sabbir Sattar
accompanied by Pro-vice-chancellors Prof Chowdhury Jakaria and Prof Sultan-
Ul-Islam and scores of teachers, students and staff brought out a rally in
the campus.
They also placed wreaths on the portrait of Bangabandhu Sheikh Mujibur Rahman
paying rich tribute to him.