Over 2.5 lakh children to be fed Vitamin A+ capsule in Natore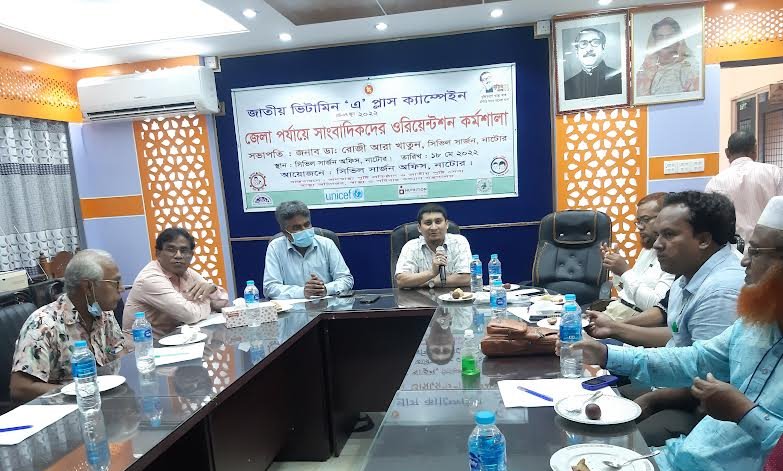 NATORE, May 18, 2022 (BSS)- Over 2.5 lakh children aged between six months to
59 months to be fed with Vitamin A plus capsules during the National Vitamin
A Plus Campaign.
Natore Sadar Upazila Health and Family Planning Officer Dr. Mahbubur Rahman
disclosed the information today at an orientation workshop with local
journalists held at the conference room of the Civil Surgeon Office at 3 pm
today to make the National Vitamin A plus Campaign-2022
a success.
The campaign will be conducted under the auspices of the Public Health and
Nutrition Institute and National Nutrition Services under the Ministry of
Health and Family Planning with the assistance of UNICEF.
Speaking at the workshop, Natore Sadar Upazila Health and Family Planning
Officer Dr. Mahbubur Rahman said normal growth of children to be ensured as
well as normal eyesight and immunity also be enhanced after taking Vitamin A
plus capsule.

There is an opportunity to provide vitamin A to the children through food
diversification and supplementary feeding, he said.
Medical Officer Mohammad Russell gave a keynote address on the benefits and
implementation strategies of giving Vitamin A capsules through PowerPoint
presentation.
According to the Civil Surgeon Office, a total of 252,914 children in the
district will be given Vitamin A capsules from June 4 to 7.

Of these, 26,472 children (6-11 months) will be given blue capsules and
2,26,442 children (12-59 months) will be given red capsules.
Civil Surgeon said a large number of volunteers and monitoring teams will
provide the Vitamin A plus Capsules at 1,388 centres in the district.