Women volunteerism removes disparities against women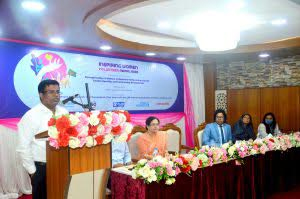 RAJSHAHI, May 18, 2022 (BSS) - Strengthened participation of women through volunteerism can be the best way of substantial and sustainable women empowerment through removing disparities against them.

Apart from this, development of the society and the nation as a whole is dependent on the overall contribution of women along with their participation.
However, women participation is gradually being strengthened through various volunteer activities besides removing their disparities at present.
Administrative officials and development activists came up with the observation while addressing the campaign of 'Inspiring Women Volunteer Award 2022' at Nanking Darbar Hall to acknowledge the laudable contribution of women volunteers in the city today.
Various non-government volunteer organizations, including Plan International Bangladesh and ActionAid Bangladesh, jointly organized the campaign.
Deputy Commissioner (DC) Abdul Jalil addressed the ceremony as chief guest, while Deputy Director of Local Government Division Shahana Akhter Jahan, Principal of Rajshahi Government Women Degree College Dr Jubaida Ayesha Siddiqua and Prof Sultana Mustofa Khanom from the Department of Sociology in Rajshahi University spoke as special guests.
DC Abdul Jalil said the women volunteers are playing pioneering roles as frontline fighters against the Covid-19 pandemic since its very beginning in the district as well as other parts of the country and their contribution has created positive impacts in the society.

Despite their physical, mental, social and economical barriers they are contributing to the society constantly and their laudable contribution needs to be acknowledged obviously.
Jalil said the Public Private Partnership attached to the Prime Minister's Office is committed to take the innovative powers of women volunteers forward so that they can play vital roles in national and global development as per the national volunteers policy.