Sheikh Hasina's Homecoming Day celebrated in Rangpur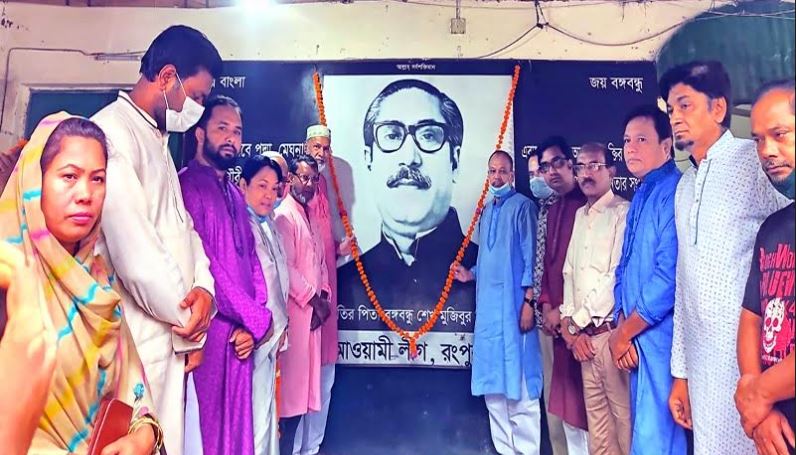 RANGPUR, May 17, 2022 (BSS) - Awami League (AL) and its associate bodies today celebrated the 42nd Homecoming Day of AL President and Prime Minister Sheikh Hasina here recalling her returning home on May 17 in 1981 from a long exile.
The district and city units of AL and its associate bodies arranged daylong programs marking the day in the city.

The programmes included placing wreaths at the portrait of Father the Nation Bangabandhu Sheikh Mujibur Rahman followed by bringing out colorful rallies, placing wreaths at the mural of Bangabandhu, milad mehfils and discussions.
The main discussion was arranged at the district AL office in the Betpotti area of the city participated by leaders and workers of AL and its associate bodies.
With President of district AL Mamtaz Uddin Ahmed in the chair, its General Secretary Advocate Rezaul Karim Raju delivered the keynote speech in the discussion.
Senior AL leader Advocate Illias Ali, Joint General Secretary of district AL Motahar Hossain Mandal Mowla, Organising Secretaries Wazed Ali Babul and Jashem Bin Hossain Jummon, Publicity and Publication Secretary Latifa Shawkat, Office Secretary Amin Sarker, other leaders of AL and its associate bodies spoke.
Advocate Raju narrated the enormous importance of the Homecoming Day of Sheikh Hasina in the national history.

He urged the party leaders to work unitedly for speeding up development to ensure welfare of common people for making the hard-earned independence meaningful.

"Return of Sheikh Hasina removed the darkness from the country after assassinations of Bangabandhu and most of his family members on August 15, 1975," he said, adding that Bangladesh has now become a global role model of development under her leadership.

Other speakers said the return of Sheikh Hasina to the country paved the way for reestablishing democracy and spirit of the War of Liberation and trial of the war criminals to free the nation from the stigma.

Mamtaz Uddin Ahmed said AL always conducts the politics for development and welfare of people.

He urged the party leaders to work unitedly and materialize the visions envisioned by Prime Minister Sheikh Hasina through building a developed Bangladesh by 2041 to realize Bangabandhu's dream of building a developed Sonar Bangla.
President of city AL Shafiur Rahman Shafi presided over another discussion while its General Secretary Tushar Kanti Mandal delivered the keynote address narrating the importance of the Homecoming Day of Sheikh Hasina.

Shafiur stressed on further strengthening the hands of Prime Minister Sheikh Hasina for building a peaceful and developed 'Sonar Bangla' free from hunger, poverty, exploitation and injustice as dreamed by Bangabandhu.