Durga Puja being celebrated amid enthusiasm in Khulna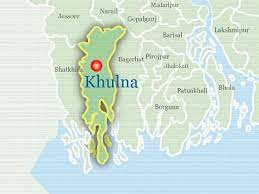 KHULNA, Oct 13, 2021 (BSS) - The five-day Durga Puja, the biggest
religious festival of the Hindu community, is being celebrated abiding health
guidelines in the city and all the nine upazilas of the district like other
parts of the country amid great enthusiasm and festive mood.
The festival was marked by puja, arati, recitation from scriptures,
distribution of proshad, offering of devotional songs and bhajans.
A huge number of devotees are seen visiting different puja mandaps to have
a look at goddess Durga with great excitement.
Besides, huge crowd was seen amid covid-19 at every Puja mandaps
throughout the day especially in the afternoon till late night.
The district administration and Puja Udjapan Parishad Committee sources
said, a total of 78 puja mandaps were set up this year in the city while 925
in the district.
District administration has distributed 501.5 tonnes of rice among the
1,003 puja mandaps to celebrate the festival this year.
The celebration will end through the immersion of idols of goddess Durga
on Bijoya Dashami on October 15.
The authorities concerned have given assurances of smooth supply of
electricity to all puja mandaps at nights to enable the Hindu devotees
offering their prayers, puja, archanas, kirtons and other religious rituals.
Meanwhile, foolproof security measures were taken in the city and all
nine upazilas to avert any untoward incident during the festival.
Additional Police Commissioner of Khulna Metropolitan Police (KMP) Sarder
Rakibul Islam, said three-tier security measures have been adopted in the
city areas.
He said adequate law enforcers were deployed at the very important puja
mandaps in the city.
He also said teams of police, Rapid Action Battalion (RAB), city especial
branch of police and detective branch have already been deployed at all
important points of the city.
State Minister for Labour and Employment Begum Monnujan Sufian, MP, Khulna
City Corporation(KCC) mayor Talukder Abdul Khaleque, Director General of RAB
Chowdhury Abdullah Al Mmun, Khulna Divisional Commissioner Ismail Hossain
visited different city puja mondaps.