Youth engagement to eradicate protein deficiency stressed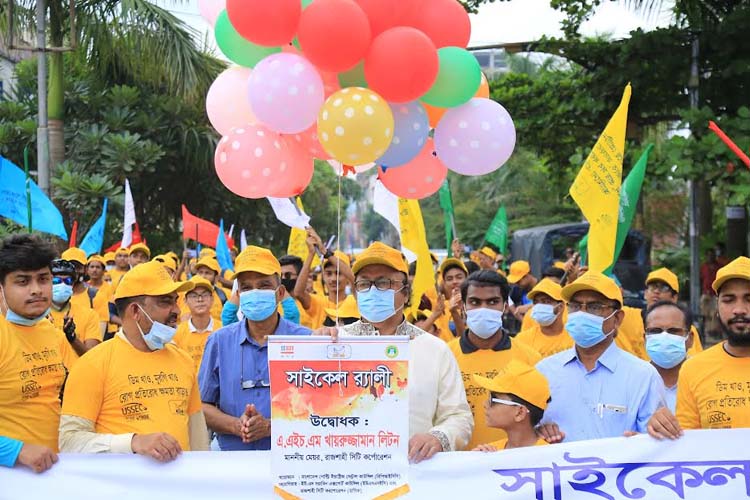 RAJSHAHI, Sept 19, 2021 (BSS) - Creating awareness about consumption of
protein-enriched milk, eggs and meat among the public in general to
strengthen their immune system and enhance disease resistant capacity amid
the Covid-19 pandemic.
Youth engagement can be the best way in this regard as many of them are
playing pioneering roles in different development fields in the region.
Rajshahi Mayor AHM Khairuzzaman Liton came up with the observation while
inaugurating a bicycle rally in the city today.
Bangladesh Poultry Industries Central Council (BPICC) and US Soybean
Export Council jointly organized the rally in association with Rajshahi City
Corporation.
BPICC President Moshiur Rahman also spoke on the occasion depicting
salient features of milk, egg and meat and their nutrition values.
He said eggs are a balanced food to all irrespective of age, male, female
and season.
Highlighting the enormous aspects of milk to the nation-building process,
Rahman mentioned that milk consumption is very important for both physical
and mental development of the children. So, utmost emphasis should be given
on ensuring fair price of milk and its safe supply.
Protein is the vital nutrition for normal growth and development of the
brain and other essential nutrients of the human body while livestock is the
pivotal source of nutrition.
Mayor Liton said the government had sold milk, eggs and meat during the
Ramadan in the wake of the COVID-19 pandemic to meet protein demand of the
population and enhance their immune system.
Under the programme, the three protein enriched foodstuffs were sold at
lower prices than market prices using 10 mobile trucks in each of the eight
districts under Rajshahi division, he said.
He said consumers easily get milk, eggs and meat at fair prices from mobile
trucks at their doorsteps amid the COVID-19 pandemic.
More than 100 youths joined the cycle rally that began from the city bhaban
premises and ended at Alupatty crossing after passing through various points
and crossings aimed at creating public awareness about protein.