BMDA staff urged to reach e-services to people's doorsteps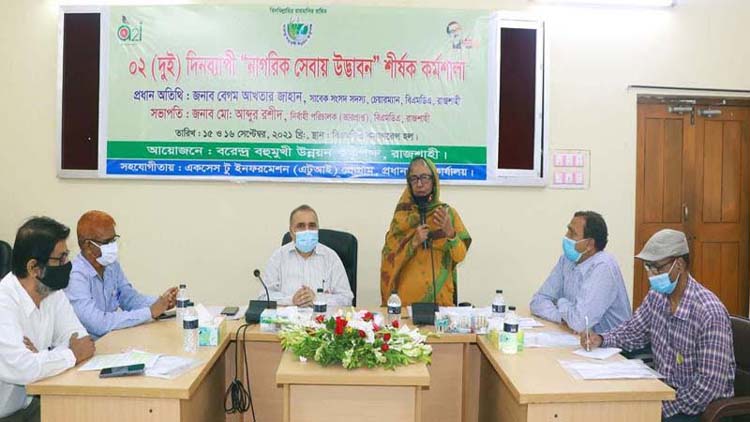 RAJSHAHI, Sept 16, 2021 (BSS)- Field level officials and staff of Barind Multipurpose Development Authority (BMDA) were asked to reach e-services to the doorsteps of the public in general after the best uses of Information and Communication Technology (ICT).
Present government under the dynamic and visionary leadership of Prime Minister Sheikh Hasina attained remarkable success in this field and has been working relentlessly to reach the services to the peoples's doorsteps to bring a positive change in their life.
The BMDA officials and employees should supplement the government endeavor through performing their duties with utmost sincerity and honesty so that the grassroots people can derive total benefits of the modern technologies properly.
The observation came at the closing day's sessions of a two-day training workshop titled "Innovation in Public Services" at BMDA conference hall in Rajshahi city today.
ICT Division hosted the workshop for the BMDA officers aimed at boosting the working capacity in association with the Access to Information (A2I) programme.
BMDA, the pioneering state-owned irrigation providing organisation in the northwest of Bangladesh, has so far brought 752,000 hectares including 2.61 lakh hectares of irri-boro land under irrigation facilities through operating 14,090 power-driven deep tube wells (DTWs).
BMDA Chairman Begum Akhter Jahan addressed the programme as chief guest, while its Executive Director Engineer Abdur Rashid was in the chair.
A2I Trainer Atikur Rahman conducted the session as resource person highlighting the aspects of expanding ICT knowledge among the mass people for their overall development.
BMDA Superintending Engineer Dr Abul Kashem and Executive Engineers Tariqul Islam and Tofazzal Ali Sarker also spoke.
In her remarks, Akhter Jahan said substantial and sustainable promotion of ICT knowledge in the agriculture sector can be the best ways of boosting its yield to feed the gradually rising population.