Erstwhile Garati enclave women get 60 goats in Panchagarh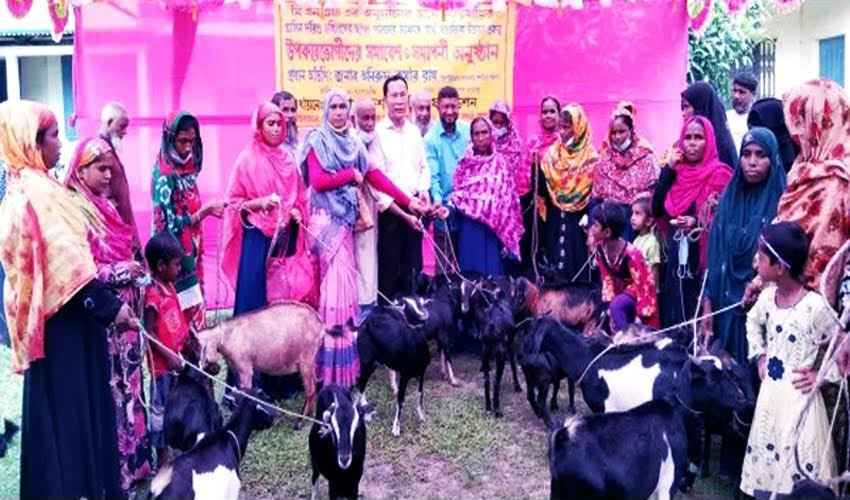 RANGPUR, Sept 6, 2021 (BSS) - Sixty local breed goats were distributed free
of cost among 30 poor women of erstwhile Garati enclave village in Sadar
upazila of Panchagarh on Sunday afternoon.
With the financial support of Bangladesh NGO Foundation (BNF), the 60 goats
were handed over to them with two goats each.
On this occasion, a gathering-cum-closing ceremony of a training course on
rearing goats was organised at Haribhasha Union Social Welfare Federation
ground in the village.
Earlier, BNF conducted the training course for the beneficiary women on
rearing goats to assist them in attaining economic self-reliance by cutting
poverty.
Deputy Director of the Department of Social Services of Panchagarh
Anuruddha Kumar Roy attended the function as the chief guest with Chairman of
Haribhasha Union Social Welfare Federation Solaiman Ali in the chair.
Vice-chairman of Haribhasha Union Social Welfare Federation Sufia Khatun
and its General Secretary Kochhim Uddin addressed the occasion as special
guests.
Addressing the event, Sufia Khatun said rearing of goats has become an
effective venture in alleviating poverty of many rural people, including
women in the erstwhile enclaves of Panchagarh district.
The chief guest called upon the goat-recipient beneficiary women for
properly utilising the knowledge and technology they learnt from the training
course on rearing goats to attain self-reliance.
"Hundreds of the poorer section people, including distressed women, have
already achieved self-reliance in rural areas through rearing goats, proving
the venture profitable to cut poverty," he added.