Restoration, beautification of Shyamasundari canal stressed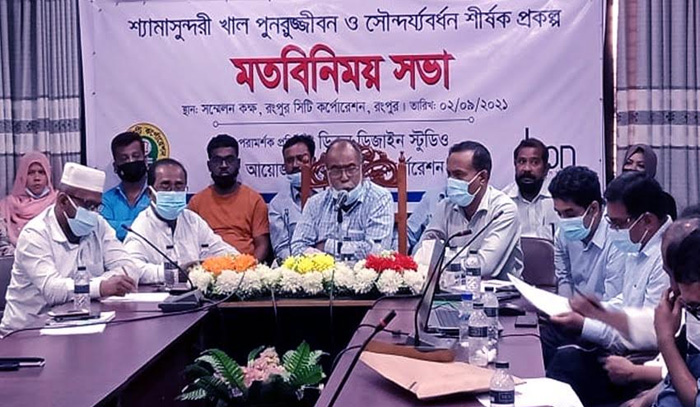 RANGPUR, Sept 3, 2021 (BSS) – Restoration of the Shyamasundari Canal has become crucial to maintain water flow round the year for beautification, cleanliness, stopping mosquito breeding and improving the environment in Rangpur city.

Officials and public representatives opined this at a views-sharing meeting arranged under the Shyamasundari canal restoration and beautification project organised by Rangpur City Corporation (RpCC) at its conference room here on Thursday afternoon.

Mayor of Rangpur Mostafizar Rahman Mostafa presided over the meeting participated by officials, political leaders, City Councilors, civil society members, professionals and elite of the city.

Consultants of Deacon Design Studios Masoodul Islam and Abu Anas Faisal presented the proposed plan on Shyamasundari canal restoration and beautification project in the event.

Chief Executive Officer of RpCC Ruhul Amin Miah, its Superintending Engineer Amdad Hossain, Cantonment Executive Officer of Rangpur Cantonment Israt Sadia Shumi, President of district Awami League Mamtaz Uddin Ahmed, General Secretary of district Jatiya Party Alhaj Abdur Razzaque, Additional Deputy Commissioner (General) Golam Rabbani, officials, public representatives, civil society members addressed the event.

The participants discussed the historical background of digging of the 16-km long Shyamasundari Canal with 23 to 90 feet width some 130 years back in 1890 to save the people of Rangpur town from deadly mosquito- and water-borne diseases.

The then King of Dimla Empire Janaki Ballav Sen dug the canal named after his mother Shyama Sundari from the entry point of the river Ghaghot to the Khoksa Ghagot point in 1890 and the canal flowed through the midline of Rangpur city.

Width of the canal was reduced to eight to 10 feet at many places, turning it into an extremely dirty place and safe haven for mosquito breeding due to land grabbing on both sides of the canal that was being considered as the life-line of Rangpur city.

The City Mayor stressed on proper re-excavation and revival of the Shyamasundari Canal and implementation of the proposed project and other works to keep the Canal live round the year for beautification of the metropolis.