Call for going abroad after getting training, learning language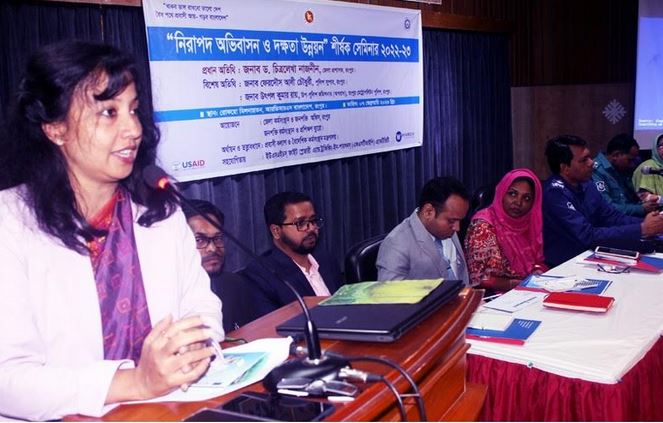 RANGPUR, Feb 7, 2023 (BSS) - Officials at a seminar today called upon overseas job-seekers to get training to become skilled workforces and learn language before going abroad with valid visas for earning well and avoiding complications.
They made the observation at the seminar titled 'Safe Migration and Skill Development' held at the Begum Rokeya auditorium of RDRS Bangladesh in the city.
The District Employment and Manpower Office, Rangpur and Bureau of Manpower, Employment and Training (BMET) jointly organised the event sponsored by the Ministry of Expatriate Welfare and Overseas Employment.
International development agency Winrock International's USAID's Fight Slavery and Trafficking-in-Persons (FSTIP) Activity and RDRS Bangladesh extended technical assistance in organising the event.
Deputy Commissioner Dr. Chitralekha Nazneen as the chief guest attended the seminar moderated by Regional Coordinator of Winrock International Md. Khairul Islam.
Superintendent of Police Md. Ferdous Ali Chowdhury and Deputy Commissioner of Police (Crime) of Rangpur Metropolitan Police Utpal Kumar Roy were present as special guests.
Assistant Director of District Employment and Manpower Office, Rangpur Amena Parveen presented the keynote essay.
She said the government has taken pragmatic steps to enhance skills and expertise of overseas job-seekers by imparting training and ensuring their regular, quality and safer migration, welfare, rights, dignity, honour and justice both at home and abroad.
Some expatriate Bangladeshis shared their experience and suggested overseas job-seekers for becoming skilled workforce before going abroad to earn more wages and live with dignity.
The speakers stressed on proper utilisation of the population dividend by turning youths into skilled workforce before sending them abroad following appropriate rules and procedures to ensure their better wages, safety, security and dignity.
Putting importance on ensuring appropriate facilities for expatriate Bangladeshis both at home and abroad, they said expatriate citizens are contributing to strengthening the national economy alongside maintaining the increasing trend of the remittance inflow.
The chief guest said production of skilled manpower by imparting necessary training to overseas job-seekers alongside ensuring their safer migration are crucial for increasing remittance inflow to further strengthen the national economy.
"Overseas job-seekers should get training and learn the language of the other country before going abroad with valid visas to avoid getting into any complications at work," she said, adding that the thought of going abroad through brokers should be abandoned.