Exploring SME sector stressed to boost economic activities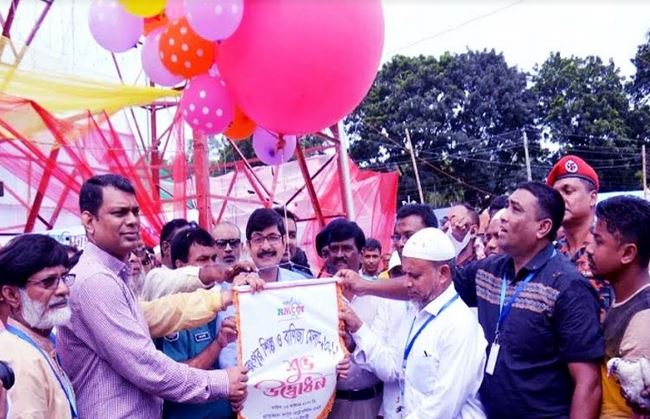 RANGPUR, Oct 2, 2022 (BSS) - Flourishing the potential of the small and medium enterprise (SME) sector could create more jobs for youths to boost economic activities and growth in strengthening the economy.

The observation came today at the inaugural function of the month-long Rangpur Industry and Trade Fair-2022 being organized by Rangpur Metropolitan Chamber of Commerce and Industry (RMCCI) at the Cricket Ground in the city.

The main objective of arranging the fair is to promote the local SME sector, enhance production of international standard SME products, exhibition and introduction of SME goods for expanding business, trade and commerce and economic activities.

Private sector female and male entrepreneurs, industries, bodies and organizations have set up 120 stalls displaying a huge spectrum of locally produced high quality SME goods in the fair.

Divisional Commissioner Md. Sabirul Islam inaugurated the fair at a function as the chief guest with Deputy Commissioner Md. Asib Ahsan.

Additional Commissioner of Police of Rangpur Metropolitan Police Saifuzzaman Farooque, RMCCI President Rezaul Islam Milon and Bangladesh Cricket Board Director Advocate Anwarul Islam addressed the event as special guests.

The chief guest visited different stalls in the fair where locally produced colorful SME goods like leather and jute-made products, handicrafts, processed agricultural products, clothes, design and fashion wares and other products are being exhibited.

The speakers put importance on involving more female entrepreneurs with the flourishing of the local SME sector to accelerate the pace of national development, economic growth and poverty alleviation.

Rezaul Islam Milon stressed on further easing the process of allocating SME loans to flourish the sector and ensure production of international standard SME products to enhance export facing challenges of globalized free trade economy system.

The chief guest said, "The economy of Rangpur will get a boost through the trade and industry fair and people from all walks of life will be benefited from the month-long event."

He laid emphasis on involving more female entrepreneurs with the SME sector to boost economic activities, progress and economic growth and cut poverty to take the country ahead on the way to build a developed Bangladesh by 2041 next.