Business Forum held in Milan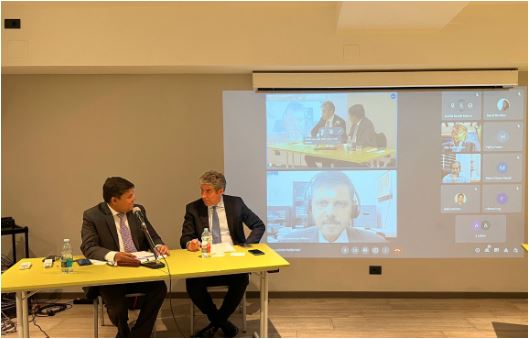 DHAKA, June 23, 2022 (BSS) - Under the title, 'Business with Bangladesh: Opportunities and challenges' a forum was held on Wednesday in the Italian city of Milan at the initiative of Bangladesh Consulate General in Milan.
Entrepreneurs, businessmen analysts, academics and senior officials from both Bangladesh and Italy took part in the forum which was organised as part of the just concluded 'Economic Diplomacy Week' of the Ministry of Foreign Affairs, said a press release here today.
In his inaugural remark, Secretary (West), Ministry of Foreign Affairs, Shabbir Ahmad Chowdhury said that 'Economic Diplomacy' is the core foreign policy objective of the government of Bangladesh.
He said that as Bangladesh moves forward and graduates into a developing country, diplomats serving across the globe have to own up the responsibility of projecting the country's true potentials before the global investors.
He stated that in attaining the key objectives of food security and employment security, there is no alternative but to broaden the industrial base of the country for which attracting investment is a must.
He reiterated that the Ministry of Foreign Affairs will chalk out innovative economic diplomacy programmes in the coming years.
Dhaka University Professor Selim Raihan laid emphasis on deeper integration with the European Union, export diversification and improvement in business competitiveness.
He said that the non-tariff barriers in business should be eliminated on faster track with due attention on infrastructure and supply side issues.
Former President of Bangladesh Garment Manufactures' and Exporters Association (BGMEA) Dr Rubana Huq said that the EU has endless opportunities in trade with Bangladesh which can contribute towards Bangladesh's product diversification.
She urged upon the Italians, particularly the Milan based fashion institutes to invest in Bangladesh for producing quality fabrics and in turn exporting the finest garments to the developed country markets.
She noted that Bangladesh has all the prospects to grow into a sustainable fashion hub.
Metropolitan Chamber of Commerce and Industry (MCCI) President Md Saiful Islam noted that there is an upward trend in Bangladesh-EU mutual trade. He stressed on introduction of direct flights between Milan and Dhaka and signing Preferential Trade Agreement (PTA) between Bangladesh and Italy.
Centre for Policy Dialogue (CPD) Research Director Dr Khandakar Golam Moazzem pointed out that foreign Investors may find Bangladesh an attractive destination because of its growing middle class.
Noting that the EU FDI stock is still very insignificant, he said that there is a huge untapped market for investment by the EU countries.
Referring to the initial hassles which investors face in Bangladesh, he said once those are overcome the return is very smooth.
Dr Moazzem suggested that like India, China and Japan, EU countries may have dedicated areas in Special Economic Zones.
As a Guest of Honour, Undersecretary of the International Delegation of Region Lombardia Alan Christian Rizzi commended the Bangladesh Consulate General for holding the forum and engaging his office.
He assured that on the pertinent business issues raised in the forum particularly the joint venture on fashion and textile, his office will follow up and closely work with the Bangladesh Consulate General in Milan.
The event was moderated by Consul General of Bangladesh of Milan M J H Jabed.