'4th industrial revolution can play vital role to Rajshahi's development'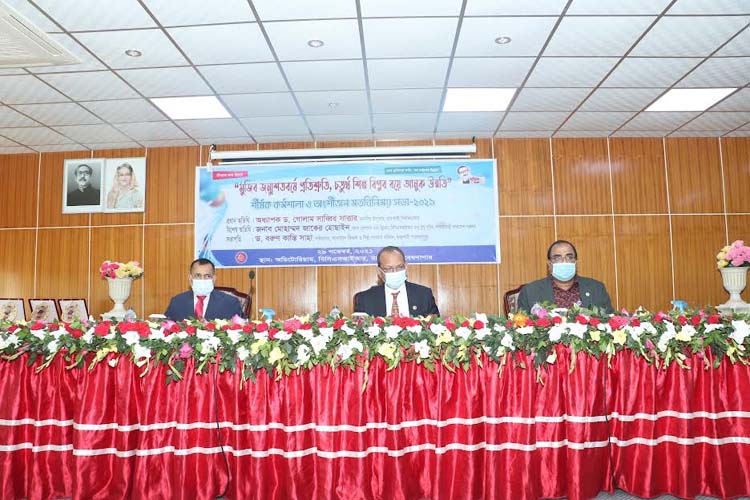 RAJSHAHI, Nov 30, 2021 (BSS) - The fourth industrial revolution (4IR)
can play a vital role towards elevating the socio-economic condition of
Rajshahi region besides infusing dynamism into its industrial sector.
Agro-based economy of the region is appropriate for facing the
challenges of 4IR together with contributing to the country's economy.
Experts and scientists came up with the observation while addressing a
daylong workshop titled "Mujib Janmoshotobarsher protishruti, chaturtha
shilpa biplob boye anuk unnati" in Rajshahi on Monday.
Rajshahi Regional Laboratory of Bangladesh Council for Science and
Industrial Research (BCSIR) hosted the workshop at its conference hall
largely attended by industrialists, entrepreneurs, academics, scientists and
researchers.
Vice Chancellor of Rajshahi University Prof Golam Sabbir Sattar and
BCSIR Member (Administration and Development) Jaker Hossain addressed the
workshop as chief and special guests respectively with BCSIR Rajshahi
Director Dr Barun Kanti Shaha in the chair.
Principal Scientific Officer Dr Nurul Huda Bhuiyan presented a keynote
paper on the issue portraying the background of industrial revolutions.
He said that the workshop on the fourth industrial revolution (4IR)
would help us to know the impact of 4IR on the business and job market.
"The digital era is characterized by technology, which increases the
speed and breadth of knowledge turnover within the economy and society," he
added.
Principal Scientific Officer Dr Sharmina Yeasmin welcomed the
participants.
Prof Golam Sabbir said Bangladesh is marching towards the fourth
industrial revolution. Bangladesh has the capability. In the process of
adopting 4IR technologies, Bangladesh has recently achieved significant
growth in various sectors including the IT services industry as well as the
healthcare services.
"In the context of the 4IR's impacts and subsequent challenges posed on
the two aforementioned sectors in Bangladesh, it is a pressing need that we
should address those challenges and assess the impact of using technology and
information services in these sectors," said Prof Sabbir.
The Vice chancellor discussed how digital technology works in the
context of entertainment, transportation, communication and argued that the
future depends on how we use this blessing.
He also added that the fourth industrial revolution is able to reduce
the social inequality and disruption cycle. He also focused on
transformation, top global perceived risks, and how single innovation changes
the industry landscape.
Prof Golam Sabbir also focused on sustainable development and said how
sustainable development can be ensured through social, economic and
environmental development. He illustrated the future prospects of Bangladesh
by highlighting the backward and forward linkages.