BMCCI for exploring Bangladesh-Malaysia trade potentiality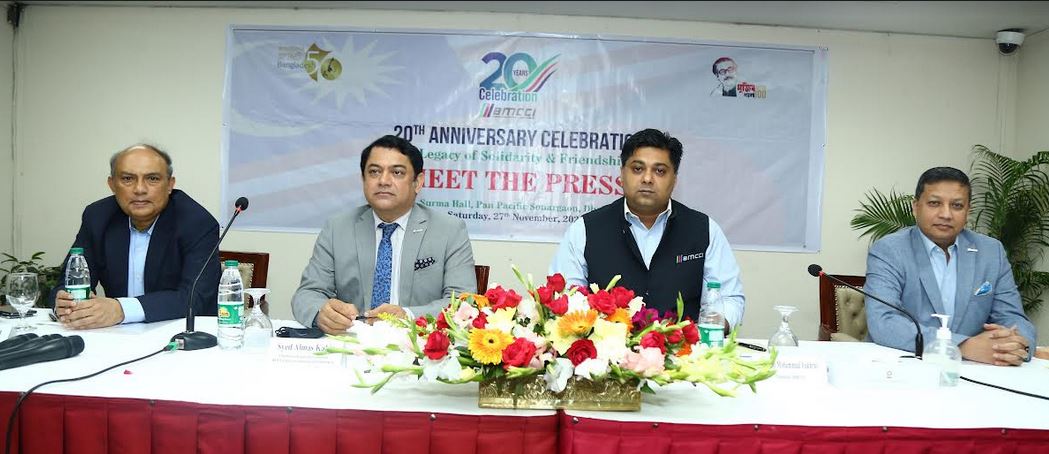 DHAKA, Nov 27, 2021 (BSS) – Bangladesh-Malaysia Chamber of Commerce and Industry (BMCCI) President Raquib Mohammad Fakhrul has laid emphasis on exploring Bangladesh-Malaysia trade potentiality in view of the current economic scenario.
"Bangladesh is one of the fastest growing countries in terms of economic growth and Malaysia is the sixth largest importing country of the world with a positive balance of payment. These two countries have immense trade potentiality. We need to explore the potentiality considering the present economic" he said.
He said this while speaking at a press conference on "BMCCI 20th Years Anniversary Celebration" on 13th December, 2021" at a hotel in the city today, said a press release.
BMCCI is going to celebrate "20th Anniversary Celebration BMCCI" Programs in conjunction with the historic celebration of the birth centenary of Father of the Nation Bangabandhu Sheikh Mujibur Rahman and the Golden Jubilee of the Independence of Bangladesh.
This will be BMCCI's flagship event to celebrate its 20 Years Anniversary with more attractive trade and investment in Bangladesh. Considering the current global economic trends, bilateral trade and investment between two such close Asian neighbours carry more national and regional importance than ever. In addition to the 20 years celebration, the program will explore key trade and investment opportunities.
Raquib Mohammad Fakhrul said he feels the Chamber will expand trade and economic interaction for the benefit of not only Bangladesh and Malaysia but also of its trade partners.
"Most importantly, it will grow our influence as an economic base in the South East Asian markets in the regional context," he added.
Syed Almas Kabir, chairman of the Organizing Committee of BMCCI, mentioned that the objective of the celebration is to facilitate and promote business opportunities for South-East Asia businesses and BMCCI Members.