Structural reforms for easy loan disbursement process urged for CMSMEs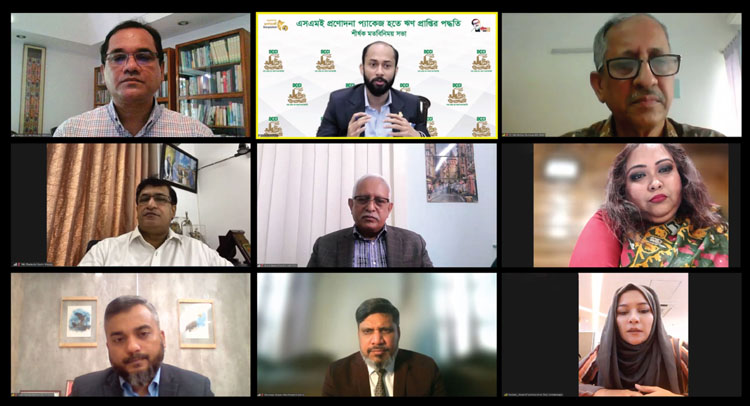 DHAKA, Sept 7, 2021 (BSS) - Structural reforms of loan disbursement
process, less documentation process, establishing a specialized SME bank, a
comprehensive SME database, policy reforms, bank-SME good relation, cash flow
based loan sanction, considering working capital loan as term loan and
considering large and small investors equally will pave the CMSMEs to
flourish as the sector is the lifeline of the country's economy, experts
suggested at a discussion.

They made the suggestion at the meeting titled "Procedures of availing
loan from SME stimulus package" between SME Foundation and Dhaka Chamber of
Commerce and Industry (DCCI) held today, said a press release.

Professor Dr Md Masudur Rahman, Chairperson of the SME Foundation joined
the meeting as the chief guest and Dr Md Mafizur Rahman, Managing Director of
the SME Foundation joined as special guest.

In his speech, DCCI President Rizwan Rahman said that the contribution
of CMSME to the GDP is only 25 percent whereas it is 35-60 percent in
Philippines, Vietnam, Sri Lanka and China.

According to a local study, he said, overall income from the CMSME
sector reduced to 66 percent in 2020 in comparison to 2019 and 76 percent of
products remained unsold, he said. According to a DCCI study, it was found
that due to pandemic 62 percent CMSMEs have to cut their manpower and 90
percent are continuing their businesses with less capacity.

Seventy three percent of the stimulus package has been distributed but
most of the CMSMEs are still deprived of that fund, he added.

He also said that medium enterprises have good relations with Banks in
comparison to small entrepreneurs because of lack of documentation and
confidence.

A CMSME friendly fund and easy access to the loan management system is
the demand of time now, he added.

Professor Dr. Md. Masudur Rahman said SMEs are the lifeline of our
economy and during the pandemic we were able to uphold this image to the
policy makers.

According to the data of 2013 SMEs are 78 lakh but at present this
number is more than 1 crore, he added.

He said 60 percent GDP of India and China comes from SMEs and SME
entrepreneur's capacity building which is more important for financial
inclusion.

Dr Md Mafizur Rahman said SME Foundation has disbursed about Taka 122
crore within one and half months and this amount went to SMEs. "We cannot
handle the money, we do not have that mandate as SME Foundation. But he
reiterated establishing a specialized SME bank. Taka 200 crore is not enough
for the rest of the SMEs but by 31st December this year we will complete
disbursement of this fund," he added.