3,750 farmers get agricultural incentives in Bhola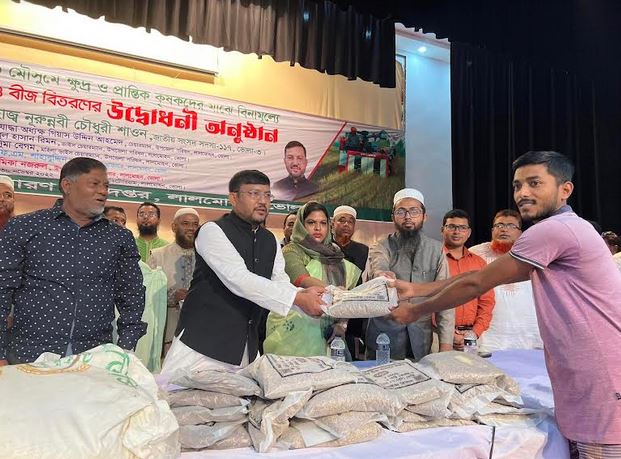 BHOLA, Nov 30, 2022 (BSS) - The Department of Agricultural Extension (DAE) today distributed seeds and fertilizers free of cost as agricultural incentives among 3,750 small and marginal farmers during the current Rabi season in Lalmohan upazila of the district.
Member of Parliament for Bhola-3 constituency Nurunnabi Chowdhury Shaon inaugurated the program as the chief guest held at the Upazila Parishad hall room with Upazila Nirbahi Officer (UNO) Anamika Nazrul in the chair.
Upazila Administration and Department Agriculture Extension jointly organized the distribution function.
Upazila Parishad Chairman Principal Giasuddin Ahmed, Upazila Awami League General Secretary Fakrul Alam Howladar, Upazila Vice-Chairman Abul Hossain Rimon, Upazila Agriculture Officer AFM Shahabuddin, among others, spoke at the function.
A total of 23,555-kg of seeds and 33,400-kg of fertilizers were given among the farmers.
A total of 1153.85 acres of land can be cultivated and 4038 tonnes of Rabi crops will be produced.
The seeds and fertilizers were distributed under the agricultural incentive and rehabilitation programme in the current Rabi season with a view to increasing the production of wheat, maize, mustard, sunflower, kesari dal, groundnut and mung dal.