Over 3,180 hectares brought under wheat farming in Gaibandha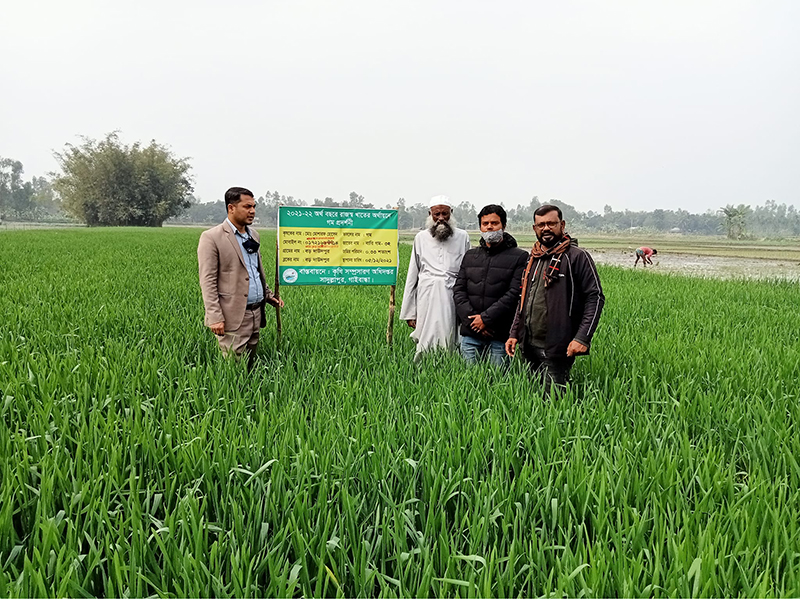 GAIBANDHA, JAN 28, 2022 (BSS)- A total of 3,180 hectares of land of the district have been brought under the farming of wheat, one of the high value crops, during the current Robi season with the production target of 11,130 metric tonnes of wheat.
Office sources said the department of agricultural extension (DAE) took a plan to farm wheat on 3180 hectares of land this year; later the target fixed by the department had been achieved.
Now, all the farmers of all the seven upazilas in the district are nurturing their wheat fields to get desired output .
The officials of DAE particularly sub-assistant agriculture officers in field level are suggesting the farmers to make the farming a grand success and help the country ensure food security as well.
Besides, the farmers are also being imparted training on how to make wheat farming successful by the department to get desired production against the crop, said district training officer of DAE Dr. Md. Rezaul Islam.
Apart from this, the DAE had taken up a programme for preservation of wheat at farmers' level through setting up demonstration plots at their land, he also said.
Talking to the BSS, deputy director (DD) of DAE Md. Belal Uddin said an initiative had been taken to ensure seed, fertilizer, pesticides and other agri-inputs to the farmers to boost production of wheat this season.
Different commercial banks including Rajshahi Krishi Unnayan Bank are also distributing agri-loan to the growers on easy term to farm the crop on the land without any economical troubles, he added.