Wheat plants growing superbly predicting bumper production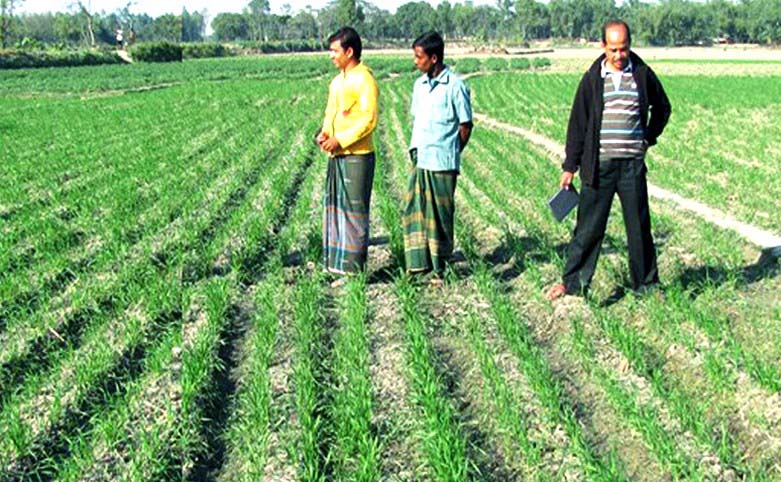 RANGPUR, Jan 13, 2022 (BSS) - Tender wheat plants are growing superbly
amid favorable climatic conditions predicting a bumper production of the
cereal crop in Rangpur agriculture region this Rabi season.
Officials of the Department of Agricultural Extension (DAE) said farmers
have finally cultivated wheat on 18,280 hectares of land, only 520 hectares
or 2.77 percent less against the fixed farming target on 18,800 hectares of
land.
The DAE has fixed a target of producing 63,661 tonnes of wheat from 18,800
hectares of land for all five districts of Rangpur, Gaibandha, Kurigram,
Lalmonirhat and Nilphamari in the region this season.
"Wheat farming target marked a very little shortfall following crop
diversification and farming of maize, potato and winter vegetables on more
lands," said Additional Director of the DAE for Rangpur region Agriculturist
Md. Mahbubur Rahman.
Farmers have finally cultivated wheat on 2,220 hectares in Rangpur, 3,185
hectares in Gaibandha, 7,300 hectares in Kurigram, 1,190 hectares in
Lalmonirhat and 4,385 hectares of land in Nilphamari districts in the region.
"Farmers are expecting a bumper wheat production after sowing high quality
wheat seeds on their crop lands using conservation agriculture (CA)-based
technologies this season," he said.
The growers have mostly cultivated high yielding wheat varieties like
'Bijoy', 'Pradip', 'Sotabdhi', BARI Gom25, BARI Gom26, BARI Gom27, BARI Gom28
and BARI Gom29 and the harvesting process will begin from April next.
Talking to BSS, Agriculturist Dr. Md. Abdul Mazid, who got the
Independence Medal 2018 (food security), expressed satisfaction over expanded
cultivation of less irrigation water consuming cereal crop of wheat by
farmers in the northern region.
"Farmers are getting excellent wheat production in recent years following
cultivation of high yielding, stress-tolerant and high temperature- tolerant
wheat varieties adopting CA- based technologies," he said.
Adoption of CA-based strip tillage and bed planting methods in sowing
seeds using seeder machines increases wheat yield reducing soil erosion,
necessity for irrigation compared to full tillage alongside saving fuel and
labor costs.
In the past, wheat production was being affected due to adverse impacts of
high temperature on its farming from flowering to ripening stages for late
sowing of seeds after harvesting late variety Aman rice and use of low
quality local seeds.
"However, farmers are sowing high quality, disease-stress-high temperature
tolerant wheat seeds timely using mechanized and low cost CA-based
technologies after harvesting short duration Aman rice to get bumper yield in
recent years," Dr. Mazid said.
Talking to BSS, farmers Ashraful Alam, Mohsin Ali, Ariful Islam and
Mohibur Rahman of different villages in Rangpur sadar said they are expecting
a bumper wheat production as tender wheat plants growing superbly amid
favourable climatic conditions.