Rangpur region to produce 11,688 tonnes of groundnut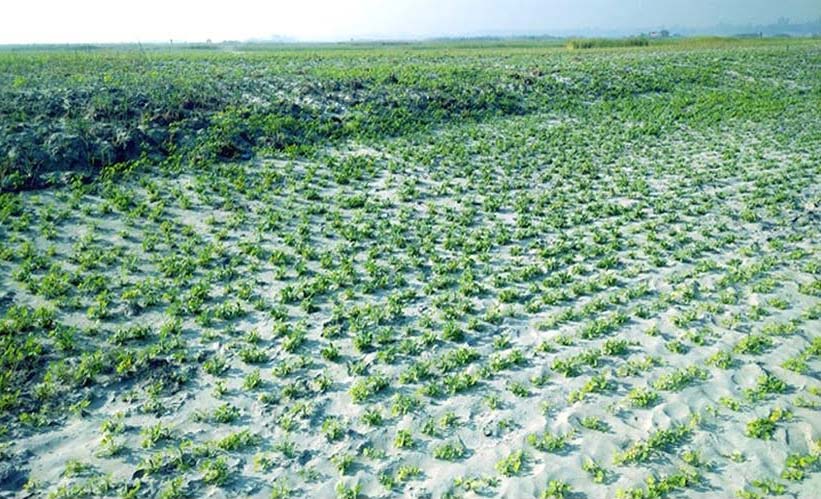 RANGPUR, Nov 25, 2021 (BSS) - A target of producing 11,688 tonnes of
groundnut from 6,015 hectares of land has been fixed for all five districts
in Rangpur agriculture region during the current (2021-2022) Rabi season.
Officials of the Department of Agricultural Extension (DAE) said farmers
produced a record 13,191 tonnes of groundnut from 6,027 hectares of land
exceeding the fixed production target of 12,161 tonnes during the last Rabi
season.
"Farmers have already completed sowing of groundnut seeds on 4,195
hectares of land as the process continues amid excellent climatic
conditions," Additional Director of the DAE's Rangpur region Agriculturist
Md. Tauhidul Ikbal told BSS today.
Tender groundnut plants are growing fabulously now both on the mainland
and vast riverine char areas in all five districts of Rangpur agriculture
region.
Farmers are expanding groundnut farming every year after getting
repeated bumper production and lucrative market price in the last 13
consecutive years, even during the Covid-19 pandemic period.
As a result of conducting massive motivational activities by the DAE and
other agriculture related organisations, farmers are cultivating high
yielding varieties of groundnut evolved by Bangladesh Agriculture Research
Institute (BARI).
Farmers are showing keen interests in enhancing groundnut cultivation on
main lands and char areas to reap more profits than many other crops
following the constantly increasing demand of the crop.
Senior Coordinator (Agriculture and Environment) of RDRS Bangladesh
Agriculturist Mamunur Rashid said farmers can earn Taka 40,000 by producing
26 to 30 mounds of groundnut per acre of land, spending around Taka 20,000 as
farming costs per acre.
Farmers are getting excellent groundnut yield by cultivating its high
yielding varieties evolved by BARI in all five districts of Rangpur,
Gaibandha, Lalmonirhat, Kurigram and Nilphamari in the region.
High yielding varieties of groundnut like 'Maizchar', 'Tridana',
'Basonti', BARI-8, BARI-6, BINA-4 and BINA-8 are mostly being cultivated by
farmers after getting repeated bumper output and lucrative price in recent
years.
With increasing demand for groundnut in the country's boosting food
industry sector, enthusiastic farmers are expanding groundnut cultivation
every year.
"Some 7,000 farmers, mostly living in riverine char areas, have achieved
self-reliance by cultivating groundnut twice annually on sandy char lands
with assistance of the DAE and different NGOs improving their living
standard," Rashid added.
Talking to BSS, farmer Abdur Rahman of village Char Ghoneshyam village
in Jatrapur union of Kurigram said he has cultivated groundnut on one acre of
char land spending Taka 20,000 this year to recoup the crop losses caused by
recent floods.
Farmers Abdul Hakim and Bachchu Mian of Char Nawani Para in the same
area said they have cultivated groundnut on more char land this season after
getting bumper production and excellent prices every year in recent times.
Similarly, farmers Abul Hashem, Lokman Hossain and Abdul Haque of Char
Biswanath village in Kawnia upazila of Rangpur said they have cultivated
groundnut on more char lands this year than the previous seasons.